Each passing budget is an opportunity to 'build back better' from the pandemic and put the District on a path toward economic inclusion and a racially just future. Read about what's in the fiscal year (FY) 2023 budget after DC Council's first vote and what work remains ahead of the second vote on May 24.
Investment Priorities for the Fiscal Year 2023 Budget
Two years after the city first shut down in response to COVID-19, not all of DC's residents are on the path to recovery. There remains a huge gap between the city's wealthier, largely white, residents and its Black and brown residents, who are disproportionately experiencing hardship. DC can narrow the longstanding racial inequities that have been exacerbated by the pandemic by
Keeping promises made last year to residents struggling the most;
Building on our progress towards a just recovery by continuing to meet urgent needs;
Leveraging DC's growing revenue and avoiding costly tax cuts; and
Providing transparent information on how money is spent and get community input on the results.
See DCFPI's budget priorities for the revised FY 2022 and FY 2023 budgets.
DCFPI staff testified at DC Council hearings in March and April to offer recommendations on FY 2023 budget investments.
Fiscal Year 2023 Budget Timeline
DC's fiscal year begins October 1 and ends September 30. In the spring, the Mayor presents a budget to the Council, which then reviews, changes, and approves it before it is sent back to the Mayor to sign into law and submitted to the US Congress, which can choose to modify or reject it.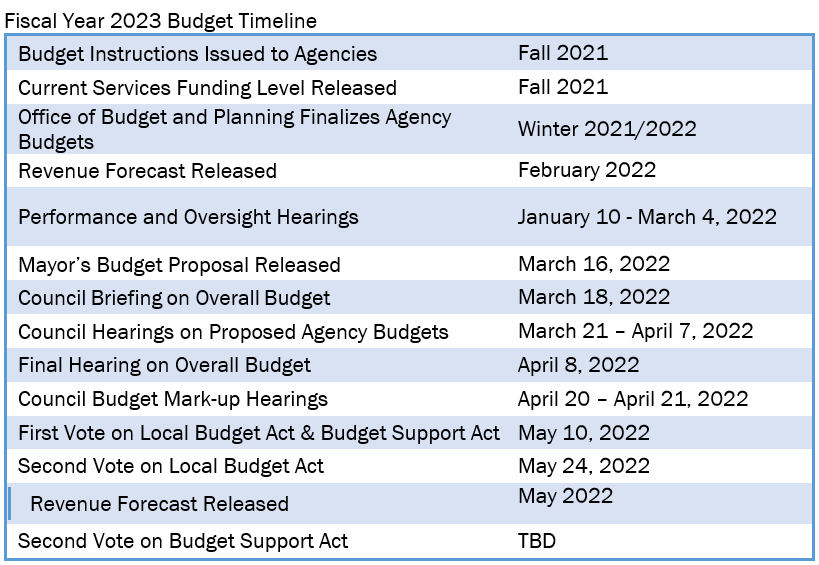 Further Resources
Become a Budget Advocate
The DC budget is the is the cornerstone of the public services and resources residents, businesses, and neighborhoods need to thrive and the central tool for addressing racial inequities in access to affordable housing, health care, and a quality education. To learn more about the budget, including the annual process for creating the budget and how to read budget documents, check out our Resident's Guide to the Budget.
The fight for equity and justice can't happen without you. Sign up to DCFPI's email list or follow us on Twitter, Facebook, and Instagram so we can send you regular updates on our efforts and ways you can get involved. You can also learn more about the Just Recovery DC campaign on Twitter.