Each passing budget is an opportunity to put the District on a path toward economic inclusion and a racially just future. The Council-approved FY 2023 budget funds the large majority of the DC Fiscal Policy Institute's (DCFPI) budget requests, at least in part, which focus on ensuring that Black and brown communities and residents currently struggling with low incomes have their basic needs met, find safety and security, are valued and compensated fairly, and have what they need to live to their fullest.  
However, in spite of the substantial investments in racial and economic equity, lawmakers missed opportunities to go further in addressing structural inequities and transparency issues in housing and education. 
Read about what's in the fiscal year (FY) 2023 budget. 
Follow the budget process: read what was in the Mayor's budget and what was in the FY2023 budget after the DC Council's first vote. 
Analysis of Key Issue Areas
Every service DC provides, such as trash collection, public education, and community centers, appears in the budget every year. The budget is the central tool for addressing challenges like widening racial inequities in access to affordable housing, quality health care, and educational opportunities. See below for in-depth analysis on FY 2023 budget investments in key issue areas:
Police Budget Remains Flat Despite Big Investments in Officer Recruitment and Retention
Major Housing Production Investments in FY 2023 Budget Fall Short of Holistic, Anti-Displacement Strategy 
New DC Public Schools Budget Model Makes Progress Towards More Transparency and Flexibility, but Falls Short on Addressing Structural Funding Inadequacy and Inequity 
Testimony

at Council Hearings on the FY 2023 Budget
DCFPI staff testified at DC Council hearings in March and April to offer recommendations on FY 2023 budget investments. 
Fiscal Year 2023 Budget Timeline
DC's fiscal year begins October 1 and ends September 30. In the spring, the Mayor presents a budget to the Council, which then reviews, changes, and approves it before it is sent back to the Mayor to sign into law and submitted to the US Congress, which can choose to modify or reject it.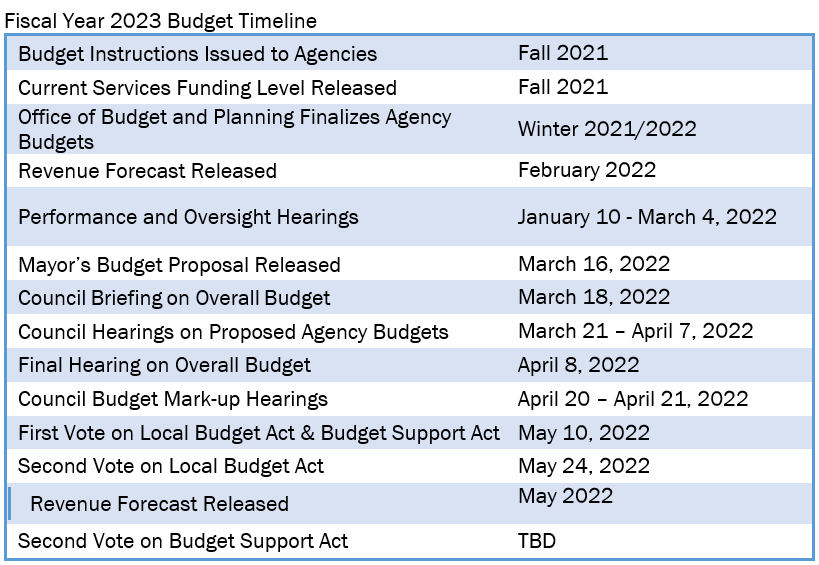 Further Resources
Become a Budget Advocate
The DC budget is the is the cornerstone of the public services and resources residents, businesses, and neighborhoods need to thrive and the central tool for addressing racial inequities in access to affordable housing, health care, and a quality education. To learn more about the budget, including the annual process for creating the budget and how to read budget documents, check out our Resident's Guide to the Budget.
The fight for equity and justice can't happen without you. Sign up to DCFPI's email list or follow us on Twitter, Facebook, and Instagram so we can send you regular updates on our efforts and ways you can get involved. You can also learn more about the Just Recovery DC campaign on Twitter.