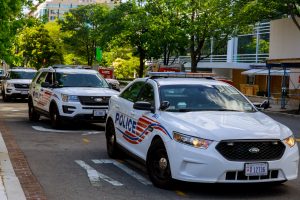 DC's approved police budget is remaining relatively flat, on net and when accounting for inflation, despite the Mayor and DC Council enacting significant investments to expand the police force. DC Council approved nearly $526.1 million in the fiscal year (FY) 2023 budget for the Metropolitan Police Department (MPD)—1.7 percent less than the approved FY 2022 budget, adjusted for inflation. To help cut through the opacity of MPD's budget, the DC Council also approved the Budget and Staffing Transparency Amendment. Any future MPD budget growth should be contingent on and informed by what Council learns from this reporting as well as further interrogation into whether the use of these resources is truly improving public safety for all residents.   
While the police budget is slightly less than the previous year, MPD regularly spends far more than its approved budget by the end of the fiscal year. For example, between fiscal years 2019 and 2021, MPD spent an average of $49.2 million more than its approved budget, adjusted for inflation. Personnel overtime spending has been among the largest drivers of MPD overspending in recent years. In the last two fiscal years alone, MPD dedicated more than 2.2 million hours to overtime and overspent by more than $80 million on overtime alone. So, while MPD's overall buying power is less on its face for the next fiscal year, recent trends in MPD spending suggest that they will continue to receive funding well beyond their approved allocation.   
In alignment with the Mayor's goal to reach 4,000 officers by 2023, the FY 2023 budget makes major investments to hire, recruit, and retain MPD officers and staff. It includes nearly $14.2 million to hire an additional 108 sworn officers, 17 senior officers, and 42 cadet conversions within the cadet corps program, in addition to the current 3,456 sworn MPD personnel. During budget hearings, Police Chief Contee raised the issue of officer attrition as a reason to increase investments in personnel. For example, between 2018 and 2021, MPD lost 331 personnel per year, on average, increasingly due to voluntary resignations and retirements, according to DCFPI analysis of MPD attrition data.  
To counter attrition, the Council-approved budget makes substantial investments to recruit and retain MPD staff, including $5.2 million to fund $20,000 hiring bonuses to 258 officers. Additionally, Council approved an additional $210,000 for $5,000 bonuses for cadets in the cadet corps. The MPD budget also includes $500,000 for rental assistance of $1,000 a month, up to six months, for police recruits who live in, or agree to relocate to, the District. The final budget for rental assistance is half of the Mayor's proposal because by April 2022, more than halfway into the 2022 fiscal year, MPD had spent only $2,000 of the $200,000 allocated for rental assistance, per DC Council staff.   
MPD's failure to get money out the door also led Council to reduce the Mayor's proposed increase for the Police Officer Retention Program, which provides student loan repayment assistance for qualified sworn employees or their dependents program. Mayor Bowser proposed $5 million for this program, or about a twelvefold increase over the FY 2022 budget. However, MPD had spent less than 2 percent of the program budget by April 2022, per DC Council Staff, leading DC Council to reduce funding to $1.2 million. The Council also cut the Mayor's proposed $2 million expansion of the Vehicle Take-Home Program, which supplies MPD officers selected by the Chief of Police with patrol vehicles for up to three years.  
While District leaders have made major investments in MPD recruiting and retention efforts, other workforces facing similar labor shortages have not received similar incentives. For example, compared to the $20,000 in bonuses for new officer recruits, DC Public Schools are only offering $2,500 signing bonuses for hard-to-fill positions, despite regularly experiencing staffing vacancies and shortages. Staffing shortages have also been the biggest challenge to moving unhoused residents into Permanent Supportive Housing, despite a major investment by DC Council in this tool for ending chronic homelessness. The Department of Human Services has announced it will offer hiring incentives in the future, but it remains unclear how much and when these will be implemented. 
As MPD dedicates greater resources to expand personnel, DC Council should enact additional transparency and accountability requirements. Reporting under the Budget and Staffing Transparency Amendment will improve the public and Council's understanding of resource allocation within MPD, but it falls short of requiring reporting on how officers spend their time day-to-day. DC Council should adopt the recommendation from the DC Auditor, Council Chairman Mendelson, the Police Reform Commission, DC Justice Lab, and a host of other advocates to conduct an independent time utilization audit study of how current policing resources are used and if there are more effective and efficient ways to direct resources to promote public safety.