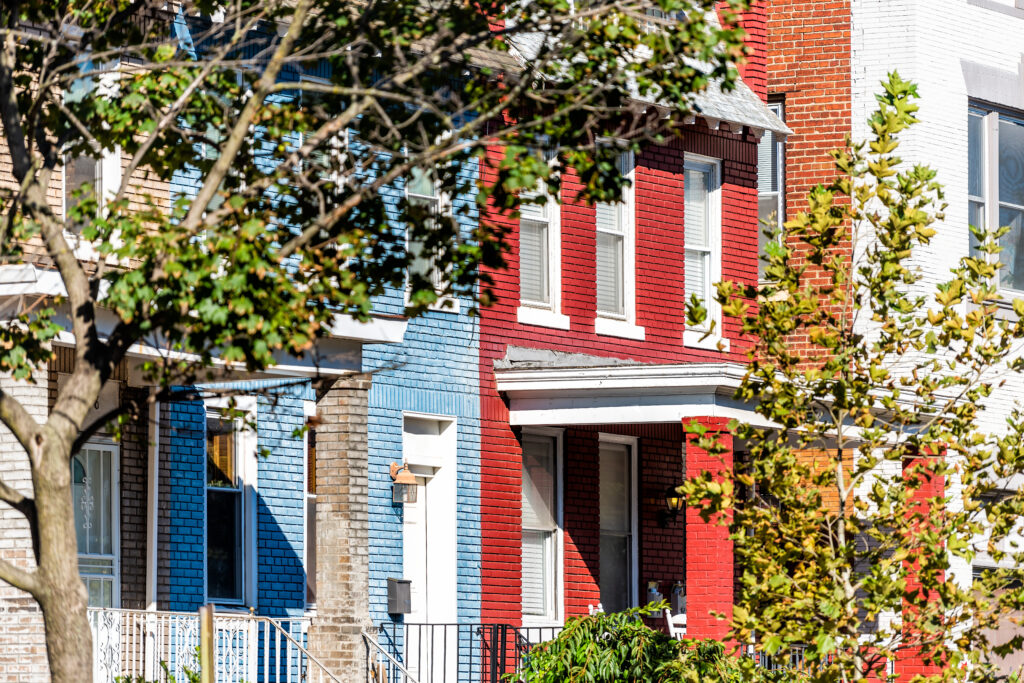 This blog post is part of a series on DCFPI's Fiscal Year 2022 Budget Priorities. Read all of our related resources in our Fiscal Year 2022 Budget Toolkit, here.
A year into the global health pandemic, the resulting economic downturn continues to underscore the importance of substantial District investments in quality affordable housing and rental assistance for DC residents. Many of our housed neighbors live in substandard housing and in communities with poorer air quality, both of which have made them more susceptible to contracting coronavirus. As with every inequality, this has particularly hit Black and brown communities the hardest. In DC, Black residents have consistently made up 75 percent of virus-related deaths and Black and brown residents have made up the same percentage of positive cases for the virus.
The Mayor and Council should use the fiscal year (FY) 2022 budget to invest in immediate affordable housing needs, such as $60 million for public housing repairs, that would directly improve public health, and $17.33 million for rental assistance for families on DC Housing Authority's (DCHA) waiting list. The District should also maintain investments in core affordable housing production and preservation programs to ensure that we leave the pandemic with the tools needed to prevent widespread displacement and to preserve long-term affordability and stability for DC families.
Repair and Preserve Public Housing, a Critical Immediate Need
Due to federal underfunding, the overwhelming majority of public housing units in DC are in need of significant repairs, and many residents live in deplorable conditions. The COVID-19 virus is particularly deadly to those with already compromised immune or respiratory systems. It is unconscionable to allow public housing residents to live in poor conditions at any time but particularly during a pandemic when these conditions can increase their likelihood of death as a result of this devastating virus. Over 90 percent of residents living in the District's public housing are Black, making this yet another issue of racial inequality. Failure to deeply invest in necessary rehabilitation of public housing units is a failure to address a deeply racialized public health crisis. The Mayor and DC Council must do everything possible to ensure that public housing residents are safe.
In recent years, the District has directly committed some local funding to support public housing repairs, including $19 million in FY 2018, $3.25 million in FY 2019, $24.5 million in FY 2020, and $50 million in FY 2021 for a total of $97 million. Yet DCHA, which owns and manages public housing, has recently reported that its immediate repair needs over the next six years are much higher—$405 million—while long-term repairs will require close to $2.5 billion. The Mayor and DC Council should invest $60 million in FY 2022 to repair and preserve public housing so that more of our neighbors have a safe place to live.
DCHA is in the middle of implementing the first phase of its "transformation" plan, which could risk housing stability and protections for current public housing tenants after redevelopment. DCHA should work to ensure that they preserve DC's public housing stock without compromising the housing needs of its existing residents. Government witnesses from DCHA will testify on March 17 and will provide the latest update on plan implementation.
Help Families Pay the Rent with Tenant Vouchers
DC's Local Rent Supplement Program (LRSP) provides rental assistance to help cover the difference between rent that low-income families can pay and the rent they face. One component of LRSP operates by providing vouchers to households to help them afford private-market apartments. But prior to the pandemic, nearly 40,000 households were already on DCHA's waiting list for this program. This need has been exacerbated as an average of 45,000 DC adult renters reported that their household was behind on rent between February 3rd and March 1, according to the Census Bureau's Household Pulse Survey. This is an average increase of 8,000 renters from January and still likely an underestimate as non-response is higher among groups that are younger, have lower levels of education, and identify as Black or Latino—all groups that are more likely to struggle to pay rent. Additionally, prior to the pandemic, nearly 60 percent of the District's lowest income households, those earning less than $20,000 annually, were severely cost burdened, meaning they spent more than 50 percent of their income on rent.
Last year, after the Mayor didn't propose an investment in tenant-based vouchers, the Council provided $1.4 million in new assistance for tenant-based vouchers to assist 70 families. The Mayor and Council should substantially invest an additional $17.33 million to provide tenant vouchers to 800 families on the DCHA waiting list in FY 2022.
For more information on emergency rental assistance for tenants who have been unable to pay rent due to the pandemic, see "The Mayor Should Invest in Ending Chronic Homelessness and Other Life-Saving Programs."
Maintain Investments in Affordable Housing Production 
The compounding harm of pandemic-related job losses and the looming threat of a cascade of evictions have magnified the need for consistent, robust, and long-term investment in truly affordable housing stock. The Housing Production Trust Fund (HPTF) is the District's primary tool for achieving this investment through financing for the production of affordable housing for low- and moderate-income residents. Lawmakers should maintain stable funding, at $104 million in FY 2022, to support the continued production of affordable housing; at least 50 percent of that funding should go to the creation of housing for the District's lowest income residents, as is mandated by law. Strong investments in the production of affordable housing is an essential element of a broader strategy to tackle the affordable housing crisis that has displaced thousands of Black residents in recent years.
Last year, the District cut the HPTF from $116 million to $100 million for both FY 2020 and FY 2021 because of a sharp drop in revenue. A year into the pandemic, the District is in a stronger financial position, having ended FY 2020 with a $526 million surplus that can more than cover the current $235 million budget deficit.
DC law requires that any budget surplus automatically go to bolster the Housing Production Trust Fund and the Pay-As-You-Go (PAYGO) Capital Account, after replenishing the District's four reserve accounts, which it had accomplished by the end of last fiscal year. The Mayor may introduce legislation for a one-time reallocation of some or all of the surplus to cover the projected $235 million budget deficit in the FY 2021 through FY 2024 four-year financial plan. If she does so, the Mayor should prioritize spending the surplus dollars to meet immediate human needs, including ending homelessness and preventing eviction. The Mayor and Council can do this while also maintaining steady funding in the HPTF.
It is important to note that DHCD has consistently failed to fulfill the statutory requirements to designate a certain portion of the funding to serve DC's extremely low-income families (those with income up to $36,400 for a family of four) (Figure 1). From FY 2014 through FY 2019, the mandated target was 40 percent, a minimum that DHCD met only once, in FY 2016. In FY 2020, the statutory requirement increased to 50 percent obligated to housing for extremely low-income residents. DHCD failed to reach that minimum for FY 2020, having allocated only 18 percent of HPTF funding to units for extremely low-income residents. In FY 2021, DHCD estimates that it will allocate 27 percent of the HPTF dollars to this category of units, still a far cry from the 50 percent legally mandated minimum.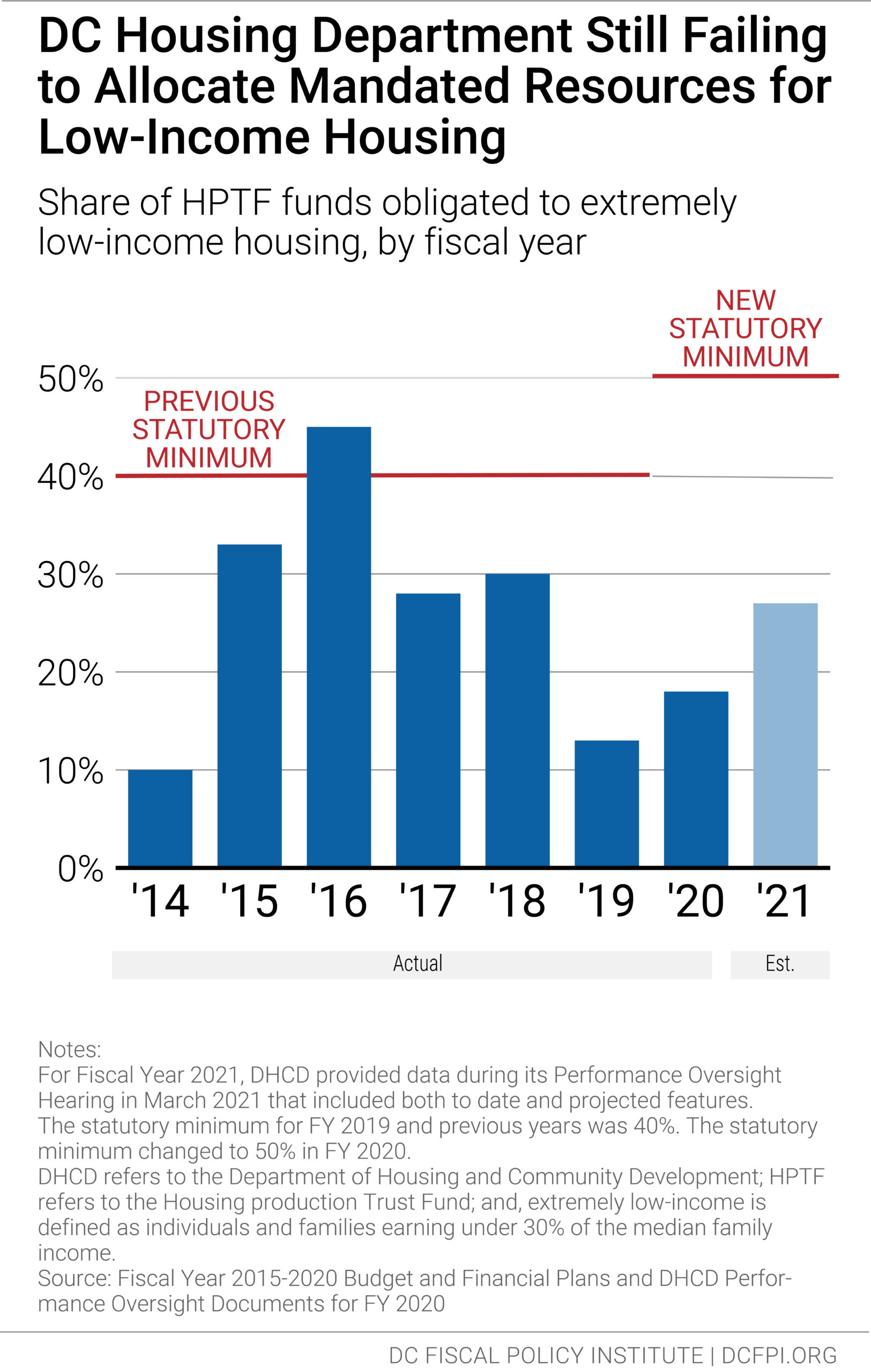 To ensure that projects receiving funding from the HPTF continue to sustainably serve extremely low-income residents, lawmakers should allocate at least $5 million for the project-based LRSP. Project-based LRSP covers ongoing operating and maintenance costs for developers and is critical for keeping tenant rents low. Without adequate investment in LRSP throughout the financial plan, projects using the HPTF will not be made affordable to extremely low-income residents.
Invest in the Preservation Fund to Protect Housing Affordability and Stability
Given the severity of the affordable housing crisis and the urgent need to preserve our naturally occurring housing stock, we urge the Council to invest at least $4 million in the Preservation Fund. The Preservation Fund is a powerful and cost-effective tool that uses public dollars to leverage private dollars in a 3:1 match, offering acquisition and predevelopment financing to preserve existing affordable housing.
The project pipeline for the Preservation Fund has been slower than in previous years because the public health state of emergency has slowed new sales on multi-unit buildings for which TOPA (Tenant Opportunity to Purchase Act) is issued. TOPA allows tenant associations the first shot at purchasing their building when it hits the market. Timelines for tenants to respond to TOPA have been paused as a part of emergency legislation; however, once the pause is lifted, there will likely be a large spike in demand for these funds. Lawmakers should allocate consistent resources for the Preservation Fund in this fiscal year to ensure that the District is prepared to preserve the ever-shrinking stock of naturally occurring affordable housing.