Compared to expectations in February, DC officials project that the District will bring in $722 million less in revenue by the end of the 2020 fiscal year (FY), according to the Chief Financial Officer's (CFO) April revenue forecast. The CFO does not expect revenues to bounce back until fiscal year 2022 (Figure 1). The COVID-19 pandemic is creating an unprecedented economic challenge, resulting in enormous financial hardship for DC residents and businesses, but also large budget shortfalls. This puts vital services and programs that are helping keep residents safe and afloat during the economic downturn at risk.
Just in the past one-and-a-half months, tens of thousands of DC residents have lost jobs, and retail and hospitality businesses are largely closed or operating at reduced levels. As many residents earn and spend less, the District is taking in less money in tax revenue to pay for vital community needs such as affordable housing and childcare.
DC CFO Jeffrey DeWitt's report and accompanying press briefing offered clarity to lawmakers on how much money they need to raise and/or cut to balance both the FY 2020 budget that ends in September, and the budget for FY 2021, which begins in October. The CFO noted several times that there is great uncertainty in the coming year, such as a second wave of COVID-19 cases, that could lead to further sizable changes to his April estimates. He will release revised estimates in August.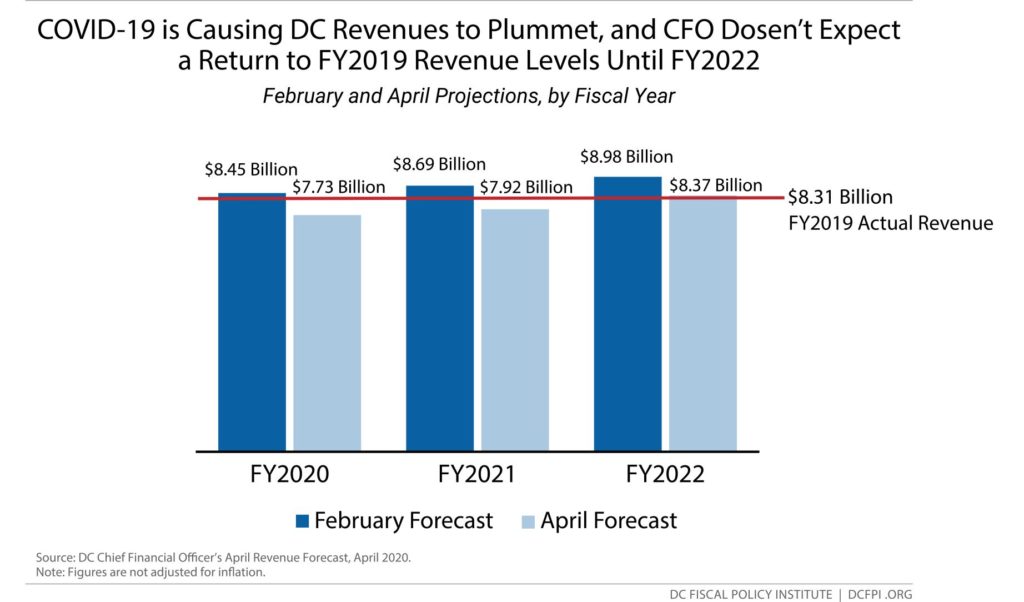 Here are four things you should know about COVID-19's effects on DC revenues:
Plummeting revenues created a large budget shortfall. The CFO projects that DC will take in $722 million less than anticipated in the February forecast for the current 2020 fiscal year that ends in September. This is the projected revenue loss for the current fiscal year (Figure 2).

A budget shortfall, on the other hand, is the difference between how much money lawmakers budgeted to be spent in the current fiscal year and how much revenue the city is expected to take in. The budget shortfall for FY 2020 is $476.1 million (Figure 3). Fortunately, DC ended FY 2019 with a $500 million budget surplus. At Friday's revenue forecast briefing, DC Council Chairman Phil Mendelson suggested that DC may use some of the FY 2019 surplus to help cover this year's budget shortfall, though some of that funding may have already been allocated to specific areas as required by law.
2. A sharp drop in revenues will squeeze the FY 2021 budget. The CFO also revised revenue projections for FY 2021 down to $773.6 million (Figure 4) and by $1.73 billion over the next three fiscal years, compared to the February forecast.

3. DC's revenue picture is facing a two-year recovery. The CFO doesn't expect revenues to return to FY 2019 levels until FY 2022, meaning it will take two years for our revenues to bounce back to pre-pandemic levels. He assumes the economy will gradually re-open beginning in fall 2020 but doesn't expect a return to "normal" before spring 2021.
4. Lost revenue through the end of FY 2021 is greater than our reserves. The CFO projects that we'll lose $1.495 billion through the end of FY 2021 due to COVID-19 (Figure 5). This is more than the $1.43 billion we had in reserves before the pandemic hit. The District is using some of our reserves to meet cash flow needs and may set aside some of the reserves in case the CFO has to further revise revenues estimates downward. However, lawmakers should consider drawing down a sizable portion of the reserves to stave off deep budget cuts and to meet immediate needs, such as cash aid to DC residents who are undocumented and excluded from many federal and state relief efforts.

During recessions, lawmakers typically make outsized cuts to health and human services and related programs that primarily serve low-income residents, as well as cuts to education. We can look back to DC's FY 2010 budget as a cautionary tale. The largest spending reductions were in programs that support kids and those who are disproportionately impacted by economic crises.
At a press briefing last week, Mayor Bowser said furloughs and other budget cuts may be necessary due to the economic impact of the COVID-19 pandemic, adding that "everyone will have to give up something in the budgeting process."
DC cannot accept an austerity budget that takes a cuts-only approach, especially one that targets education and health and human services to address the budget shortfall. The Mayor and DC Council must take a balanced approach by raising additional revenue, strategically using our more than $1 billion in reserves and FY 2019 surplus and finding creative savings without hurting low-income communities. They must also engage the community in these budget decisions through an inclusive and transparent budget process.