At tomorrow's preliminary vote on the fiscal year (FY) 2023 budget, DC Council is expected to take up the MPD Budget and Staffing Transparency Budget Support Act Amendment. The measure would mandate greater transparency of the Metropolitan Police Department's (MPD) notoriously opaque budgeting practices. DC residents have called for more effective and equitable investments in alternatives to policing, which disproportionately harms DC's Black communities through over-policing and use of force. Despite community demands, the Mayor's proposed budget includes substantial hiring incentives to boost the size of the police force.
As the District and communities across the country examine ways to better invest resources to promote safety outside of policing, the public deserves more consistent and transparent reporting of how current policing resources are being used. The DC Council should approve this transparency measure and further examine MPD staffing levels to allocate public safety resources more effectively.
MPD Lacks Budget Transparency and Regularly Overspends
Each year, the MPD budget grows with few accountability measures in place. The proposed FY 2023 budget increases MPD's budget by just over five percent over the previous year's approved budget. Much of the increase goes to hiring incentives to boost the size of the police force and is as step toward Mayor Bowser's arbitrary goal of a 4,000-officer force that she first set in 2019.
At the same time, there is no clear reporting on staffing levels in the MPD budget proposal.
Typically, agencies actually fund positions—referred to as Full Time Equivalents (FTEs)—they intend to fill throughout the year. However, the MPD budget proposal also includes "unfunded" positions. This practice allows MPD to maintain "budget authority" for the Mayor to allocate money for these positions midyear, thereby circumventing Council oversight and the public budget process. Additionally, neither the Mayor's MPD budget proposal nor agency representatives' responses to Council oversight questions specify the kinds of staffing positions that are unfunded and why they warrant inclusion in the budget request.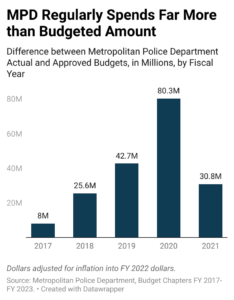 In addition to opaque staffing levels, MPD consistently spends far greater than its allocated budget, largely due to overtime spending. While national protests, the January 6th insurrection, and pandemic response led to unprecedented overtime spending, MPD overspending precedes these events. In the last five years, MPD has spent an average of $37.6 million more than their approved budget adjusted for inflation, almost entirely on overtime (Figure 1).
Overspending by MPD on unallocated costs takes resources away from other needed services and directly harms Black communities. For example, Mayor Bowser diverted more than $28 million from the health care fund and nearly $13 million in underspending from workforce funds in FY 2021 to cover police overtime. The diversion of these funds are especially harmful given the pandemic's unequal public health and economic burden on Black communities. And, although Black individuals make up 46 percent of DC's population, they make up 70 percent of all police stops, over 90 percent of all stop and frisks, and 91 percent of reported use of force incidents. If DC leaders fail to further interrogate resource allocation to MPD and its use of those resources, greater investments will continue to perpetuate the harms experienced by Black residents.
Proposed Amendment Would Improve MPD Transparency
The MPD Budget and Staffing Transparency Budget Support Act amendment is a step toward better transparency and public accountability. It would require MPD to publish staffing and budget data on an annual or monthly basis, in addition to records of stops, including details such as where stops occur, and the race of individuals stopped (Table 1).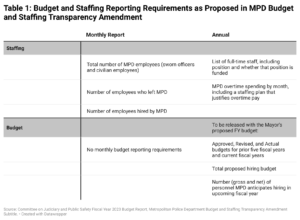 This amendment is critical to understanding actual police staffing, funds for staffing, and overtime expenses. Monthly reporting would provide Council greater clarity on changes to the size of the force so they can keep a more precise pulse on spending, and annual reporting would shed light on the number of FTEs left unfunded in the budget. As for overtime, Council passed temporary legislation in 2020 requiring MPD to notify Council when their overtime spending exceeds five percent of the approved overtime budget and provide spending reports. Council let this requirement expire in 2021. While the amendment would not restore this notification, it would require an annual report breaking out the monthly overtime expenses with a pay justification.
The Amendment Is Just One Step Toward Public Accountability
More work is needed to hold MPD accountable, even if the amendment is approved. For example, a comprehensive staffing audit, like the one requested by Chairman Mendelson, could provide essential information to better assess how officers could more effectively utilize their time working toward true community safety. Conducting this audit should also be an urgent priority in addition adopting the BSA amendment.
Improving public safety requires deep and consistent interrogation of how resources are being used to meet all residents' needs. DCFPI urges the Council to adopt the proposed transparency amendment as a necessary step toward greater visibility of how resources are being spent on policing.