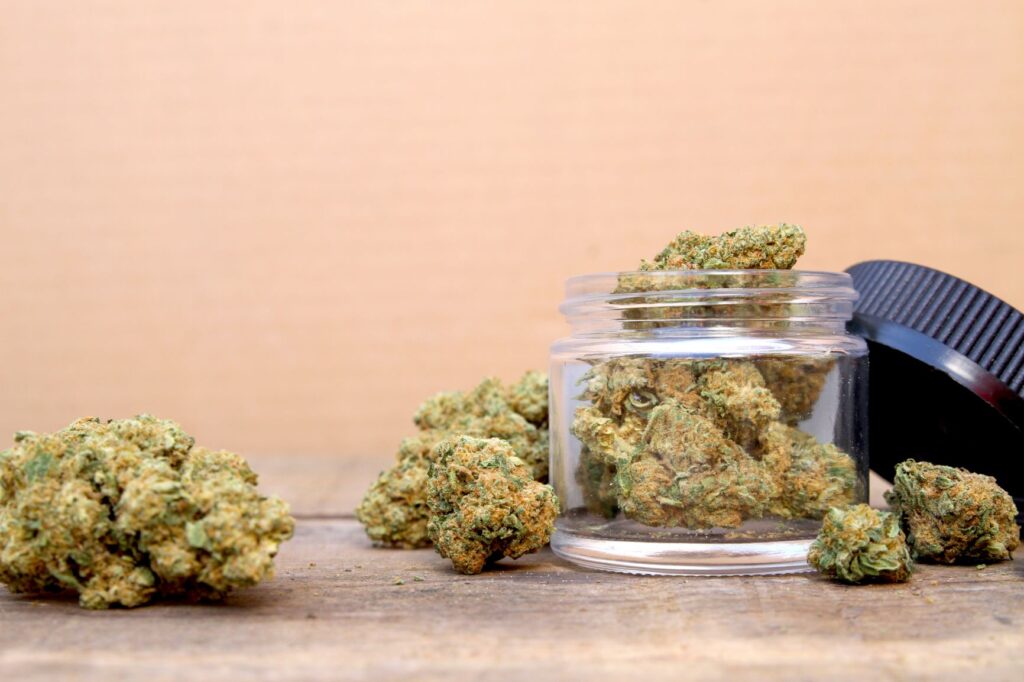 Today, on 4/20, many Americans are reflecting upon the nation's racist history of cannabis prohibition and the criminalization of Black and brown people and communities. DCFPI is also reflecting on how the DC Council can take steps to usher in a reparative and racially inclusive recreational cannabis industry for these communities, as envisioned in a recent DCFPI report. The Council can legally hold hearings on legislation to legalize and regulate the sale of recreational cannabis, according to yet another legal determination from the US government. A longstanding roadblock, known as a "budget rider," in the annual congressional appropriations bill still prevents the District from enacting such legislation—although, the Democratic-led Senate could and should remove the rider and clear the way for enactment.   
DCFPI's report recommends that when the District moves forward with hearings, the proposed legislation should atone for historical injustices and root our recreational cannabis industry in racial equity, primarily by: addressing historical and current harm; designing a cannabis industry that fosters racial inclusion; and devoting cannabis tax revenue to build community wealth. The Mayor and Council have released two bills that would adopt some of our recommendations, with the Council bill being in closer alignment than the Mayor's bill. The Chairman of the Council signaled that he will prioritize the Council bill and consider amending it to incorporate some components of the Mayor's bill.   
The Council's bill, the Comprehensive Cannabis Legalization and Regulation Act of 2021, largely aligns with most of our recommendations and is quite expansive (Figure 1). If passed, it would:  
automatic

ally

expunge

most

cannabis-related arrests, prosecutions, and

convictions

;

 

 

create a public data portal

to track

progress

;

 

 

set

aside

half of all available licenses created by the bill to

social equity

program participants; and,

 

devote 30 percent of

recreational

cannabis sales

tax revenue to

a fund to

support

individual

social equity program applicants. 

 
But the Council bill falls short on devoting all recreational cannabis sales tax revenue to directly build community wealth, such as through reparations and other ways of addressing harms. The bill also states that a prior drug possession conviction cannot be the sole ground for denial of a license, so criminal records can still be considered and used against returning citizens and/or people directly impacted by past drug prohibition.  
Some of our other recommendations made the bill too, including finding ways to establish legal spaces for public cannabis consumption for people without access to private property, protecting consumers from employer discrimination, and ensuring the equitable access and fair distribution of cannabis dispensaries and cultivation centers in communities. As we've said recently (see 58:10 minute mark here), the implications of these recommendations are nuanced. For example, it will be important to consider whether the cost of land and property in some wards limit distribution and equitable access to the industry. Additionally, our partners at the Drug Policy Alliance point out that everyone does not want to be a cannabis entrepreneur, so the Council bill can do more to devote cannabis tax revenue to issues around equitable employment and consumer practices and community wealth building. We will continue to finetune our recommendations and advocate for such bill improvements.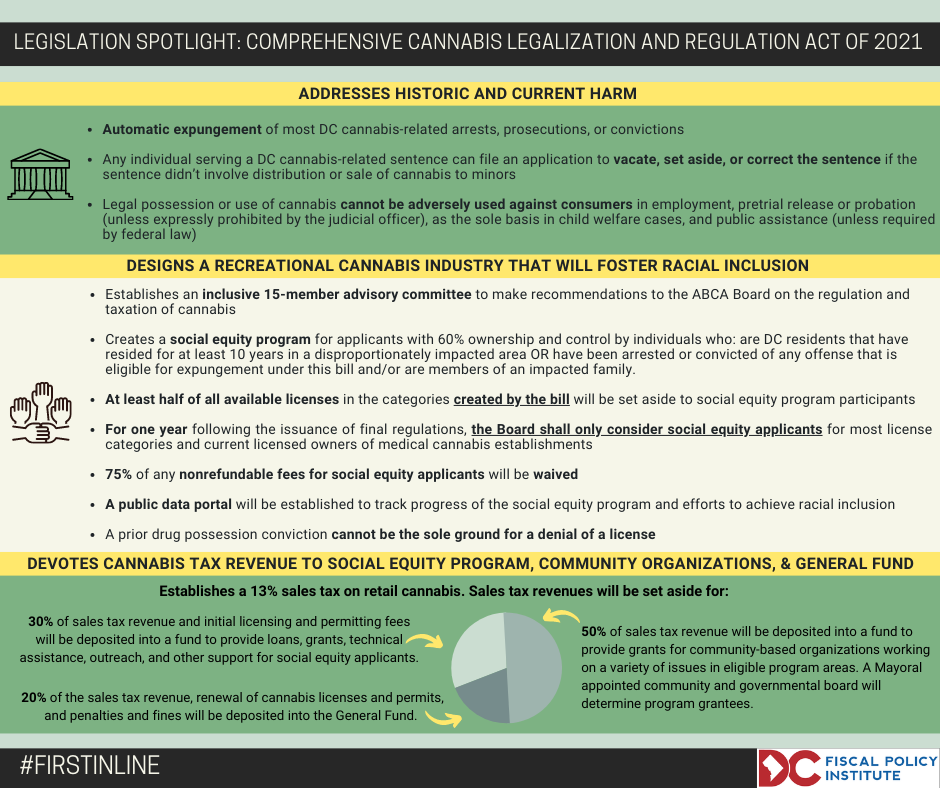 In the meantime, we encourage the Council to hold hearings on the proposed legislation this summer after budget season. The Chairman referred the Council bill to the Committee on Judiciary and Public Safety (chaired by Councilmember Allen), Committee on Business and Economic Development (chaired by Councilmember McDuffie), and Committee of the Whole (chaired by Chairperson Mendelson). Join us in calling on these committees and Councilmembers to hold hearings by reaching out via email and on Twitter.   
For more information on the social equity provisions in the Council bill, watch this panel discussion. Feel free to email Doni at dcrawford@dcfpi.org to receive a more detailed table comparing both the Mayor and Council bills.