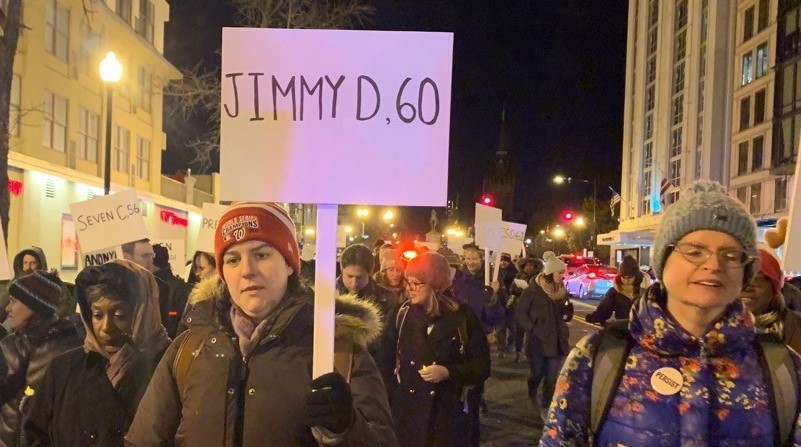 Bernard "Chino" Dean Jr. lived outside of the Macy's at Metro Center for more than 10 years and died in August. He was a veteran of the Navy, and he was well known in the neighborhood for his "exuberant spirit."
Unfortunately, Chino was not alone. At least 81 residents died while experiencing homelessness in the District over the past year. This the highest recorded number ever. Last year, there were 54 recorded deaths.
Homelessness cuts lives short. People who don't know where they're going to spend the night struggle to receive needed services like medical treatment or counseling. And they are often forced to stay in places that are unsafe or make their illnesses worse. As a result, the life expectancy of people facing chronic homelessness is far shorter than for those who are stably housed.
DC residents gathered last night for the Homeless Memorial Vigil, led by the People for Fairness Coalition, a local organization headed by individuals who have experienced housing instability. Community organizations, government officials, faith groups, and residents came together to remember those who died in the past year—and to commit to ending homelessness in the District so that no one else dies here while homeless.
This tragedy highlights the need to make further progress on the city's plan to end chronic homelessness and take additional steps to protect residents when they are homeless.
Among the other people who were remembered last night;
Ms. Bobby died at age 67. She lived in a tent in NoMA for three years.
Michael Irby died at age 65. He was a talented musician, singing and playing-the drums in the All Nations Baptist Church choir.
Alice Carter died at age 35. I knew Alice through our church, Foundry United Methodist, where she was a long-time member. She wrote poetry for Street Sense and performed it at open mic nights.
Participants called on Mayor Bowser and the DC Council to ensure that no one else dies while homeless by increasing funding for affordable housing programs. The DC Fiscal Policy Institute is proud to be a part of these efforts.
Kate Coventry is a DCFPI Senior Policy Analyst and voting member of the Interagency Council on Homelessness.