The DC economy is strong and increasingly diverse, with impressive improvements in a number of indicators over the past decade. The District is now a clear engine of economic vitality in the region, with the city outperforming the rest of the region in many ways.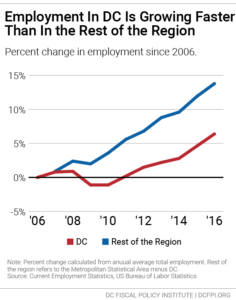 The District's population is growing, and net migration from the city to surrounding counties has fallen sharply. The number of jobs in DC is growing, driven almost entirely by private-sector jobs, meaning that the economy is becoming more diverse and less reliant on the federal government. Job growth in DC has been faster than in the rest of the region.
This robust growth comes at the same time as the District has adopted policies to improve working conditions for lower-wage workers, including increases to the minimum wage and requiring all employers to provide paid sick leave. Job growth has been strong in DC's retail and food service sectors, industries that are affected by the minimum wage increase. This suggests that the DC economy has been strong enough to absorb additional labor standards to help workers.