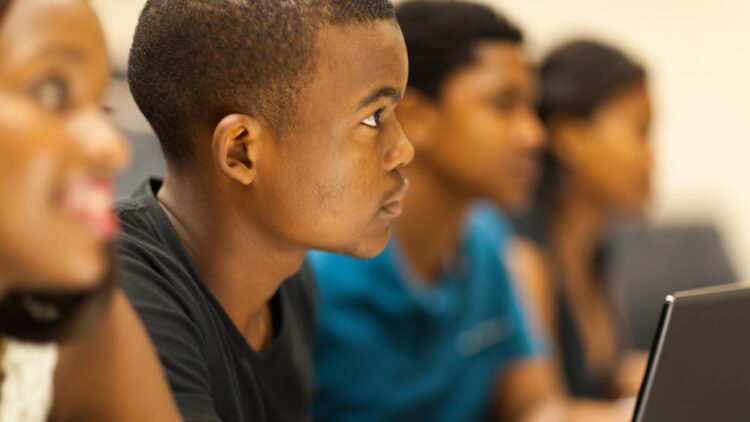 In light of the national outcry against police brutality, tens of thousands of District residents are calling for the DC Council to decrease public funding for the Metropolitan Police Department (MPD). The police department's largest contract, worth over $20 million, funds a police presence in District of Columbia Public Schools (DCPS). This money could be better spent on student mental health.
Councilmember David Grosso, chair of the Education Committee, is calling for such action, a move in line with the demands of Black Lives Matter-DC, student-led Black Swan Academy, and the ACLU-DC. Last Friday, he filed a resolution to disapprove the security contract along with councilmembers Brianne Nadeau, Charles Allen, Kenyan McDuffie and Robert White—allowing the Committee on Education more time to make changes. This effort is also in line with the wishes of a majority of DC voters: In a recent poll from DCFPI and DC Action for Children, 65 percent of voters said they support removing police-contracted personnel from schools and reinvesting those dollars in school-based mental health and student support programs.
The funds from the MPD/DCPS contract and the Mayor's proposed $2.5 million budget increase for MPD school resource officers for fiscal year (FY) 2021 could be reinvested in community-based safety and mental health initiatives, including:
Expansion of school-based mental health programs;
Fully funded community-based behavioral health services; and,
Expanded use of community violence interrupters within schools and the broader community.
Police Disproportionately Harm Black Students in Schools 
The presence of police in schools disproportionately harms Black students, the weight of research shows. In DC, 92 percent of school-based arrests in the last year were of Black students. Nationally, Black students are more than twice as likely to be subject to a school-related arrest as white students. Students who experience discipline that removes them from the classroom are more likely to repeat a grade, drop out of school, and become involved in the juvenile justice system. Studies have shown that policing in schools marks the start of the school-to-prison pipeline—the entry point to the criminal justice system for too many kids—and fuels mass incarceration.
In contrast, the benefits of investing in mental health services are clear: Schools with such services see improved attendance rates, better academic achievement, and higher graduation rates as well as lower rates of suspension, expulsion, and other disciplinary incidents.
Mayor's Proposed Budget Prioritizes Policing over Mental Health Support
The Mayor's FY 2021 proposed budget includes $37 million for the School Safety Division (SSD) in MPD's budget, including $23 million for the MPD/DCPS security contract. The security contract is funded through an inter-agency transfer from DCPS to MPD. Whereas the Mayor's budget proposed a 2.6 percent decrease, she since has recommended legislation to the Council that would increase funding by 2.6 percent to $23.9 million. Under the legislation, this would be a 30 percent increase over the last six fiscal years, when adjusted for inflation.
Comparatively, DCPS is proposing to spend three times less on school climate, social-emotional learning, and mental health initiatives in FY 2021 compared to FY 2020 and is proposing to underfund a sufficient number of social workers and school psychologists in the new school year. In the 2019-2020 school year, DCPS had over 300 contracted security guards—a ratio of 1 security guard to 147 students—while having a social worker to student ratio of only 1-to-217 and a school psychologist to student ratio of 1-to-408 (see Figure 1).  That DCPS allocates social workers and psychologists based almost entirely on the needs of students with disabilities likely contributes to inadequate mental health staff to student ratios because the needs of all students are excluded from budgeting decisions.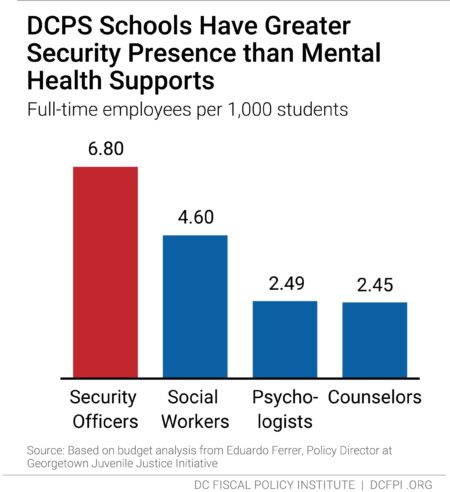 The remaining $14 million of the Mayor's proposed SSD budget would increase funding for school resource officers (SROs) by 20 percent, adding $2.5 million for an additional 17 officers. Funding for SROs has grown 104 percent over the last six fiscal years, when adjusted for inflation, which may be attributed to the growth of schools in the District. The city could afford to hire twice as many mental health professionals in the next school year if policymakers reject the Mayor's request to increase MPD's budget. Currently, the proposed budget underfunds the student mental health expansion by $2.5 million and makes deep cuts totaling $9.4 million to community-based behavioral health services for residents otherwise ineligible for Medicaid. 119 schools currently participate in the mental health expansion; it would cost approximately $4 million to expand services to the planned 60 schools for school year 2020-21.
All students deserve to learn in healthy environments—that is, to be comfortable and not afraid in school. District leaders should deepen investments in people-centered solutions to mental health and student safety at a time when Black youth are confronting both an unequal burden of the health pandemic and the persistent public display of anti-Blackness and racism. The DC Council should follow the lead of lawmakers in Minneapolis, Denver, Seattle, Portland, OR and Oakland, CA who have all suspended their city's contracts between public schools and police departments in recent weeks.