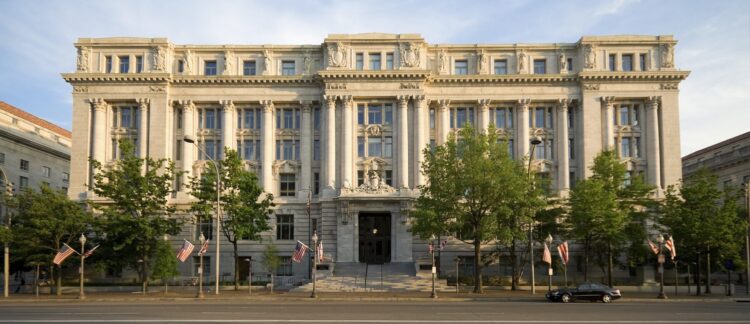 Last week, DC Council committees voted on changes—or "markups"—to the Mayor's proposed Fiscal Year (FY) 2021 budget, which failed to adequately meet the spike in human needs resulting from the current economic downturn and pandemic. While the markups resulted in some funding increases for vital programs, shortcomings remain. As it stands now, the Council's markup budgets still fail to provide enough money for a range of programs that would meet immediate and growing needs, such as housing for residents experiencing homelessness, public housing repairs, cash benefits for excluded workers, and childcare stabilization, among other critical needs.
During markups, each Council committee proposes funding for agencies and programs they oversee, using the Mayor's budget proposal as a starting point. Committee chairs will send their individual markup budgets to the Committee of the Whole, which will vote on the full budget on July 7, where members will make further changes.
DCFPI encourages the Council to protect vital community programs and to lay the groundwork for a just economic recovery that advances racial justice, puts people first, and raises revenue. DCFPI and 69 allies are urging the DC Council to make DC's richest households and profitable businesses to pay more of their fair share to raise revenue, so we can provide adequate, targeted recovery support in the budget. Lawmakers will have another opportunity to present tax ideas during the first vote on July 7th.
Some of the most meaningful markup changes that DC Council committees approved last week, as compared to the Mayor's FY 2021 proposal, are highlighted below.
Homelessness
Permanent Supportive Housing (PSH) for Individuals: The markup added nearly $1.5 million for 50 units of PSH for individuals and $0 for families. PSH combines housing and extensive wraparound services. The full Council should add funding for 1,354 units for individuals and 248 units for families.
Emergency Rental Assistance Program (ERAP): The markup added $1.14 million to the ERAP program, which helps residents facing eviction pay for overdue rent and related legal costs, among other needs. The Council should add $12 million at a minimum.
Homelessness Prevention for Individuals: The markup added $1.2 million to this program, bringing the FY 2021 budget to the FY 2020 level. The Way Home Campaign is asking that an additional $800,000 be invested to serve more people.
Homeless Street Outreach: The markup added $1.6 million to homeless street outreach, which targets residents who do not stay in shelters, which is particularly critical during the pandemic. An additional $492,000 is needed to fully fund the need.
Shelter for Survivors of Domestic Violence: The markup allocated $3 million needed for crisis shelters to help survivors of domestic violence, which is anticipated to increase with the pandemic.
Affordable Housing
Public Housing Repairs: The markup identified $376,000 for public housing repairs—far short of the additional $35 million that advocates say is needed.
Housing Production Trust Fund: The markup found $9 million for the Housing Production Trust Fund. We recommend they allocate at least $6.6 million more.
Housing Preservation Fund: The markup allocated $750,000 to this fund but another $9.25 million is needed to help prevent displacement and preserve long-term affordability.
Tenant Vouchers for Special Populations: The markup funded 20 vouchers for returning citizens, 10 for seniors, and 10 for LGBTQ seniors.
Early Education and Public Schools
Early Childhood Education: The markup allocated $1.4 million for a fund to help stabilize the child care industry, which is at risk of collapsing due to the pandemic and economic downturn. The Mayor's budget proposal left a $5 million hole in the childcare subsidy program, meaning more money is needed to ensure providers can reopen their doors safely and meet proper health guidelines. We recommend the Council provide an additional $13.6 million.
Home Visiting: The markup allocated $150,000 to replace one-time funding for high quality home visiting services to first time mothers who have low-incomes.
Public Charter School Funding Hold Harmless Provision: DCFPI opposes the subtitle, which would fund public charter schools on projected enrollment as opposed to audited October enrollment. This subtitle would remove the financial incentive for public charter schools to retain students.
At-risk Weight: The markup allocated $300,000 to increase the at-risk weight to .2256 from .225.
School-Based Mental Health: The markup provides $75,000 to support school-based mental health. Still, $2.5 million for the Department of Behavioral Health's school mental health program is needed to expand the program to an additional 60 schools in the fall.
Education Technology: The markup failed to provide the additional $11 million that is needed to ensure that every kindergarten through 12th grade student in DC Public Schools has a laptop or tablet to participate in distance learning in the next school year.
School Security: The markup reallocated $7 million of the proposed $23 million Metropolitan Police Department contract for school security, with approximately $6.6 million for social emotional learning in schools.
Safety Net
Excluded Workers: The markup failed to fund a cash assistance program for workers who are undocumented or otherwise in the informal cash economy and excluded from federal unemployment benefit relief efforts.
DC Healthcare Alliance: The markup failed to extend the shorter-than-normal recertification period in this program. However, the markup created a Medicaid Reserve for the higher Medicaid costs due to COVID-19. Leftover reserves would be available to extend the recertification period.
Revenue and an Inclusive Economy
Tax Breaks: The markup rejected the Mayor's proposal to expand the ineffective Qualified High Technology Company tax break but fails to eliminate it entirely. It also failed to end local capital gains tax breaks through the federal Opportunity Zone program but would only allow tax breaks for a project that receives a positive racial equity assessment score.
Cost-of-Living Adjustments for City Workers: The markup required that up to $35 million in revenues in excess of the April 2020 estimate be used first to honor COLAs in two executed collective bargaining agreements, covering 10,000 workers. The Mayor's budget would freeze COLAs. While DCFPI appreciates the Council's desire to restore COLAs for hard-working city employees, this change doesn't guarantee a solution to the problem, whereas a revenue package would. Also, DCFPI opposes the mechanism to set aside every dollar in "future" revenues (up to $35 million) for a single priority because it shortchanges the budget process and sets a bad precedent (as we explained in detail here for a similar proposal).
Support for Returning Citizens: The markup allocated $380,000 for a new Access to Jobs two-year pilot program, which incentivizes the hiring of returning citizens. The markup found $150,000 to continue the Paralegal Fellowship Initiative, a program designed to help returning citizens build careers in the legal field. The markup also identified $300,000 for organizations providing reentry services. $1 million was identified for a reentry housing program for adult men returning from incarceration. See Tenant Vouchers for Special Populations above for information on vouchers for returning citizens.
Support Businesses Owned by People of Color: The markup created a $1.25 million Equity Impact Fund to help address barriers to accessing capital. It would also provide the Office of the Deputy Mayor for Planning and Economic Development the authority to issue up to $1 million to Industrial Bank to support an equitable economic recovery given that fewer Black-owned businesses received a federal Paycheck Protection Program loan.
REACH Act: The markup took steps to advance racial equity by establishing the Office of Racial Equity and creating a racial equity assessment to score legislation.
Tipped Workers' Rights: The markup provided $100,000 for a public education campaign on tipped workers' wage rights and $128,000 for the Office of the Attorney General to combat wage theft.
Assist Workers Navigate Leave Laws: The markup provided funding for workplace leave navigators that would assist workers in understanding local paid leave benefits that will begin this week, and it provided $1.9 million to enforce anti-retaliation protections for workers outlined in the Universal Paid Leave Act.
Public Safety
Department of Corrections: The markup eliminated 10 new proposed correctional officers and reinvested those savings into re-entry grants.
Metro Police Department (MPD) Accountability: The markup established an independent police complaints board to ensure police accountability.
Cuts to MPD Budget: The markup allocated $523.2 million in local funds for FY 2021, which is $24 million less than the revised FY 2020 local budget of $547.3 million dollars (see Table 1). A $24 million cut is far larger than the $14.4 million cut that the Mayor proposed. (The markup cut $32.6 million from the total revised FY 2020 $601 million budget, which includes federal and other dollars.) The markup reallocated that funding to support a variety of community-centered public safety programs, human needs, and other services. In particular, the reallocated funding restored the Mayor's proposed cuts to violence and intervention contracts and added an additional $575,000 for these contracts.