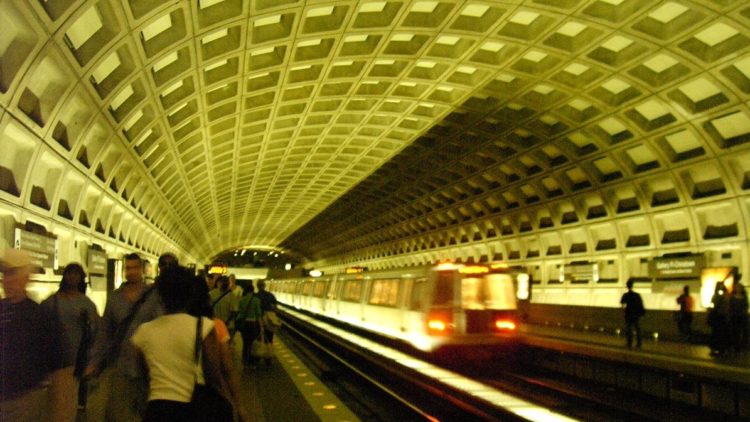 DC Councilmember Charles Allen introduced a bill to make public transit more affordable and encourage residents to use public transit—by giving most adult residents a $100 monthly transit subsidy—and adding new bus lines in neighborhoods that need them the most.[1] Yet, these highly laudable goals are wrapped up in a bill with serious flaws. Allen would pay for the new program with a misguided funding mechanism that devotes 100 percent of future increases in DC's revenues to this program, leaving no new funds for other pressing needs, such as affordable housing and education, and limiting the ability of the Council to debate how to spend new money. It also misses the mark by giving every DC resident the same transit subsidy, regardless of income or household need, rather than targeting the right level of assistance based on need.
DCFPI recommends the Council fund this initiative through the regular budget process, including considering sensible revenue increases to cover the cost, and revise the stipend program to target residents with the highest needs.
Seizing Future Revenues Ties the Hands of Future Lawmakers, Reduces Transparency
There is no doubt that a new transit subsidy providing thousands of dollars of benefits to all residents would have a big cost—and thus compete with the ability to fund other needs, such as child care and health care. Yet, rather than identifying a new revenue source to pay for the new benefits, estimated by Allen to cost up to $151 million annually, he proposes using "future revenues" to cover the costs. The bill would set aside every dollar of future projected increases in the city's revenues—starting today—to pay for the new initiatives. If, for example, our Chief Financial Officer projects in June that total revenues will grow by $50 million due to an expanding economy, all $50 million would go toward this new transit program, with no review or debate by DC Council about other ways to use the funds.
This is a misguided funding mechanism because it:
Makes the new transit program DC's one and only priority for new money: By taking every new dollar of revenue growth, this bill makes no room for using newly available funds to end homelessness, fund child care and other early childhood initiatives, create affordable housing, address inadequate and inequitable school funding, and more.
Is a budget gimmick. Seizing future revenues is a way for lawmakers to say they found money for a new initiative when they didn't. The mechanism is not cost-free, evidenced by the fact that it leaves no new money for any other urgent priorities.
Shortchanges the budget process. This bill would decide budget priorities in advance, before lawmakers even have a chance to decide what the city's most pressing challenges are and where over-projected revenues should be directed.
Sets a bad precedent. The funding mechanism would reduce transparency by allowing lawmakers to avoid the public scrutiny that would accompany a public debate about the tradeoffs and consequences of prioritizing transit as the District's most urgent need. Endorsing this process would create a slippery slope.
The more fiscally responsible and transparent approach would be to fund these initiatives through the normal annual budget process, allowing future lawmakers to debate its merits alongside other programs that are important to families. Given the size of this new program, it also would make sense to consider ways to increase revenues—such as by closing loopholes or increasing taxes on higher-income residents and successful corporations.
$100 a Month is Too Little for Some, and Too Much for Others
The $100 monthly transit stipend would go to most adult District residents, regardless of income, once the bill is fully phased in and funded. The program would prioritize the lowest income residents first, and then phase in the program to include the remainder of residents.
A new program to make public transit affordable should support residents based on what they need—as a matter of equity—rather than giving everyone the same. Equity is important in a city facing stark levels of income inequality and where tens of thousands of people live on the economic margins. The new program fails to account for how families face different economic conditions and different transit needs.
A family without a car living in a transit-deprived area, such as east of the Anacostia River, may rely almost entirely on public transit and pay extra because they have to take trips that combine bus and rail. By contrast, a family with a car or that is fortunate to take trips that only need bus or rail would rely less on public transit and have lower costs. These kinds of distinctions fall heavily along race and income lines, with lower-income and Black and brown residents more likely to depend on public transit.
The top 20 percent of DC households earn more than half of all income in the District. Their average income of $341,400 is nearly 32 times larger than the average income of the bottom 20 percent of households—$10,800—according to Census data. For low-income families, a transit subsidy may mean the difference between going to a doctor's visit or not. For high-income families, a transit subsidy is simply more money in their pocket.
Subsidizing residents who don't need additional help affording transit options means that the program both costs more overall and forgoes the opportunity to boost the maximum benefit to a higher level for those needing the most help. Rather than subsidizing families that can already afford transit on their own, a more equitable approach for the subsidy program would be to cap income eligibility and target assistance to those with the greatest need. Under an income cap, subsidy amounts could vary with those facing the greatest economic challenges receiving the highest stipend.
Revising the transit subsidy stipend to center equity rather than equality would complement the bill's other dedicated fund, which already centers equity by targeting expanded transit options in underserved areas (rather than all parts of the District).
Again, Councilmember Allen should be commended for recognizing that transit affordability and access is a major challenge in the District, but we encourage the Council to revise the funding mechanism and make the subsidy program more targeted and equitable.
[1] Adults who already receive a transit subsidy via their government employer are not eligible for the subsidy. Students with Kids Ride Free Program SmarTrip cards are also excluded.