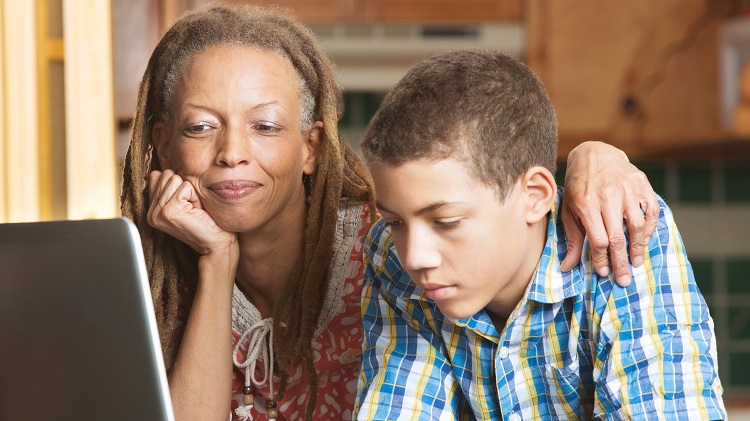 In recent weeks, the Mayor and top education officials have taken decisive action to ensure the health and safety of the District's 94,000 public school students during the ongoing coronavirus pandemic. They closed DC Public schools (DCPS) at least through April 24, and all public charter schools are also following this schedule. The new COVID reality is that we have to disrupt children's education experiences to save lives in the immediate term, but the District has made a strong effort to support students' ability to learn in several ways, including:
Initiating distance learning for public school and public charter school students, who are expected to learn remotely through technology devices, such as computers or mobile devices, or through printed instructional materials.
Maintaining an online comprehensive list of school sites where students can access free meals—breakfast and lunch—in a "grab-and-go" style.
Working to ensure that more students have the technology and connectivity they need for online learning, which includes distributing the city's current supply of ed tech devices, prioritizing high school students, and the launch of the DC Education Equity Fund to purchase more devices and Wi-Fi hotspots for low-income students who need them.
Applying for a federal waiver to cancel standardized test scores for the 2019-2020 school year.
All District families are experiencing massive, pandemic-induced disruptions to their daily lives. Yet, in times of disasters or economic recessions, vulnerable families—most of whom are low-income and Black, Latinx, or immigrant—tend to fare worse and are last to recover. In this public health crisis, families with no or little earnings face the double burden of being overwhelmed with trying to keep their children housed, fed, and healthy while homeschooling them for what may become an indefinite amount of time.
The inequities in access to critical economic and educational supports existed before the pandemic hit, reflecting DC's long history of racist public policies and practices. Policymakers have shortchanged low-income and other vulnerable students for years by not funding public schools adequately and protecting funds that schools can use to provide extra help to students who need it most. As the Mayor and education officials deliberate and roll out crisis responses, they should take extra steps to ensure that children from resource-strapped families aren't further left behind academically.
Learning Interrupted
Mayor Bowser has assured DC residents that "learning is going to happen" during the pandemic, yet the reality is that the average parent is doing their best but is not prepared to take on the role of being their child's teacher. But for low-income parents—who are unlikely to have the luxury of working from home—being caregiver and teacher is an even bigger undertaking. Thousands of children across the District are going to lose out on quality instructional time.
Research tells us that when students miss out on too much school, they tend to have worse academic outcomes. Over the summer, academic gains tend to slow for all students, but low-income students and Black and Latinx  students are especially disadvantaged given their unequal access to enriching summer opportunities that keep them learning. Other research shows that declines in student achievement can be acute in the first year following a natural disaster that caused students to miss many days of school.
Education leaders must quickly adjust to the reality that the pandemic may widen already large and unacceptable learning gaps. Wealthier, mostly white families are better positioned to hire tutors and invest in other resources to help their children catch up and stay on track. Low-income families, predominantly people of color, are likely economically locked out of these opportunities.
Students with disabilities and students experiencing homelessness are also especially vulnerable during these unprecedented times. Some families of students with disabilities are experiencing disruptions in key services, such as physical therapy, jeopardizing their children's continued learning. Due to often unstable living conditions, children experiencing homelessness face many barriers that makes keeping up with schoolwork right now seemingly impossible.
Further, as families confront high stress levels, increased isolation, and inadequate social support—known risk factors for child abuse and neglect—we know that proper mental health supports are going to be vital in helping families stay whole.
Next Steps for DC's Education Officials
The Mayor and education leaders made important policy changes in the wake of COVID-19, and they have acknowledged the need to take more action—and are undoubtedly doing so—as the coronavirus pandemic progresses. As rapid response work quickly proceeds, naturally, it is unclear what additional steps they have taken. To ensure that the District's crisis responses promote educational equity and give students and their families the proper support they need, education leaders should consider the following steps, at minimum, if they are not already in the works:
Provide updated and easy to understand guidance for families struggling to adjust to distance learning. Such guidance could include tutorials on how to maximize the use of online learning tools and other non-technological tools that teachers are using to connect with students.
Expand access to mental telehealth services for vulnerable children and families dealing with heightened levels of stress.
Provide special education and related services to students with disabilities through alternative service delivery options.
Consider expanding summer school and/or lengthening future school years to address the longer-term harms of COVID-19 school closures and increased financial stress for families on student outcomes. Long-term harms could include the widening of achievement gaps, increase of students with mental health and social-emotional challenges, enrollment declines at high-poverty schools, etc.
Like in previous economic downturns, low-income and Black and brown communities are guaranteed to sustain significant damage as our economy weakens and vital public services and programs face the threat of deep budget cuts. To soften the blow, it's imperative that city leaders engage in emergency relief efforts that proactively protect DC's most vulnerable residents.