Today marks 22 years since President Bill Clinton signed the federal welfare law that led to dramatic changes to programs in DC and the states. Across the country, this has resulted in hardship and an increase in extreme child poverty in many states. In contrast, DC stands out as a unique success story and model for other jurisdictions, through actions by District leaders to ensure that the Temporary Assistance to Needy Families (TANF) program supports low-income families with children.
TANF provides cash assistance, subsidized childcare and employment resources to help families with children that are facing economic hardship. With these funds, families can pay rent and utility bills, and buy things like over the-counter medication for a sick child, school supplies or new shoes. This assistance is a crucial resource for many children, as family economic stability has lasting impacts on a child's ability to succeed in school and later in life.
Indeed, this sense of economic stability is central to children's well-being. The daily stresses of poverty — confronting issues  like poor food access and unstable housing — negatively impact a child's physical and cognitive development, and make it hard for parents to provide their kids with the resources they need to thrive. Additionally, prolonged exposure to traumatic circumstances — most often experienced by young people of color in the District — can significantly inhibit a young person's ability to learn. Increasing a family's income, even by a small amount, means that families have more resources to pay for basic needs like food, housing, or health care. With financial stability at home, students perform better in school, which leads to higher graduation rates and more hours of employment as an adult.
While TANF policies nationally have fallen short of helping families facing economic hardship, the District has taken steps to make the program successful here. Last year, DC leaders took the bold step to make this jurisdiction the first in the country to entirely eliminate a harmful time limit that would have permanently cut 10,000 children from assistance. There is no doubt that this would have pushed many families into extreme poverty and contributed to rising homelessness.
Before District leaders enacted the recent reform, the TANF time limit adopted in 2011 had meant cuts to benefits for families over the next few years — even for those who were working hard to find a job or dealing with serious challenges, like domestic violence or health problems. From October 2014 until recently, families who had received TANF for more than 60 months were receiving drastically reduced benefits — just over $150 per month for a family of three — even though most families on TANF get no housing assistance.
More than 20 years under the federal rules have shown that strict time limits often fall on families facing serious challenges and do not lead to sustainable employment for parents. And children often fall into extreme poverty as a result. A survey of long-term TANF recipients in the District found that roughly 40 percent had a physical health issue and over 30 percent had depression or anxiety severe enough to prevent them from participating in meaningful work activities, demonstrating just how crucial TANF is for many District families.
DC also made another important reform by raising TANF cash assistance benefits — countering the trend of other states — to help families meet the rising costs of housing and other needs. (As noted, most TANF recipients in DC get no housing aid.) In 2019, DC's TANF benefits will be $644 a month for a family of three, up from $441 a month in 2016. While this still leaves families in poverty and is far less than the cost of housing (with the increase, cash benefits will be only 37 percent of the poverty line), the change will help more families find stability.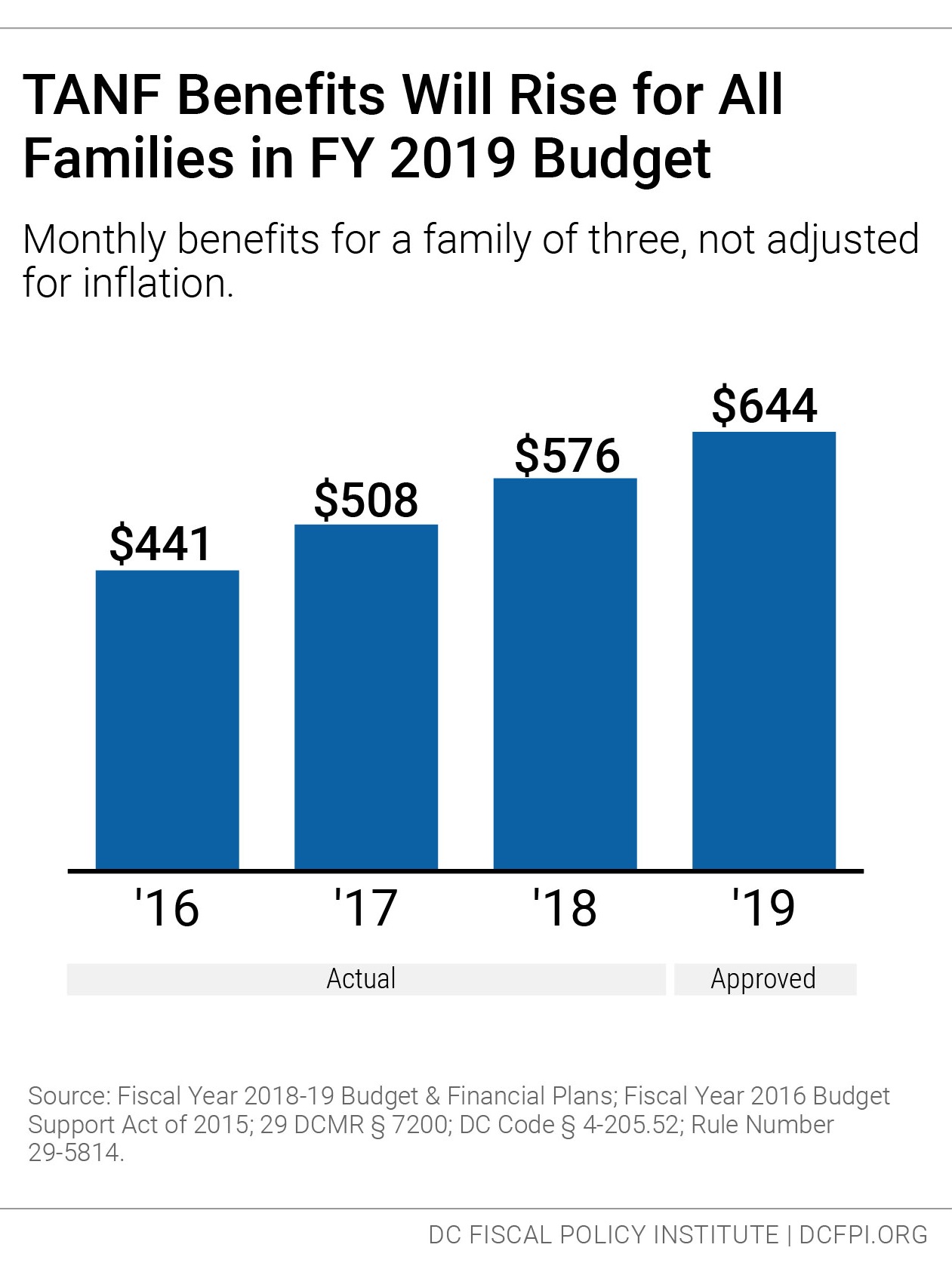 The District has also taken steps to embrace a two-generation approach, with programs that give parents the resources they need to better support their kids. One example is Mental health Outreach for MotherS (MOMS), which was developed by Yale University, community partners, and low-income mothers to bring accessible mental health resources to moms who suffer from depression. The program uses principles from cognitive behavioral therapy, helping participants become more aware of negative or false thinking so they can view problems more clearly and respond to them more effectively. MOMS has achieved amazing results, with 76 percent of participants experiencing a decrease in depressive symptoms, such as anxiety and feelings of worthlessness, and 67 percent reporting a decrease in parenting stress. Children of participants attended six more days of school per year than those of non-participants; and the percentage of mothers working at least 15 hours a week increased from 15 percent at the start of the program to 39 percent six months after graduation.
We have tangible evidence that low-income families benefit from the additional supports that TANF can provide — when the program is implemented thoughtfully and effectively. If other jurisdictions can take their cue from the District's approach, these benefits could be felt across the country one day.
Read the original post in The DC Line.