CONTACT: Ed Lazere, Executive Director, 202-841-0097/ lazere@dcfpi.org
A 1 percent sales tax to fund Metro repairs would hit the budgets of the area's lowest-income families five times harder than those of the richest, according to an analysis released today by the DC Fiscal Policy Institute, the Maryland Center for Economic Policy, and The Commonwealth Institute for Fiscal Analysis. When added to recent increases in Metro fares and cutbacks in Metro hours and services, a sales tax would create a "triple whammy" for the residents who can least afford it. The groups are calling on local leaders to abandon the sales tax proposal because of its inequitable impact.  
Sales taxes almost always fall more heavily on those living on low incomes. Buying things like shampoo, household cleaners, clothes and school supplies takes up a sizable share of income for families with limited incomes, while barely registering on the budgets of the well-off. That means that families with low incomes pay more of their income in sales taxes than do families at higher incomes.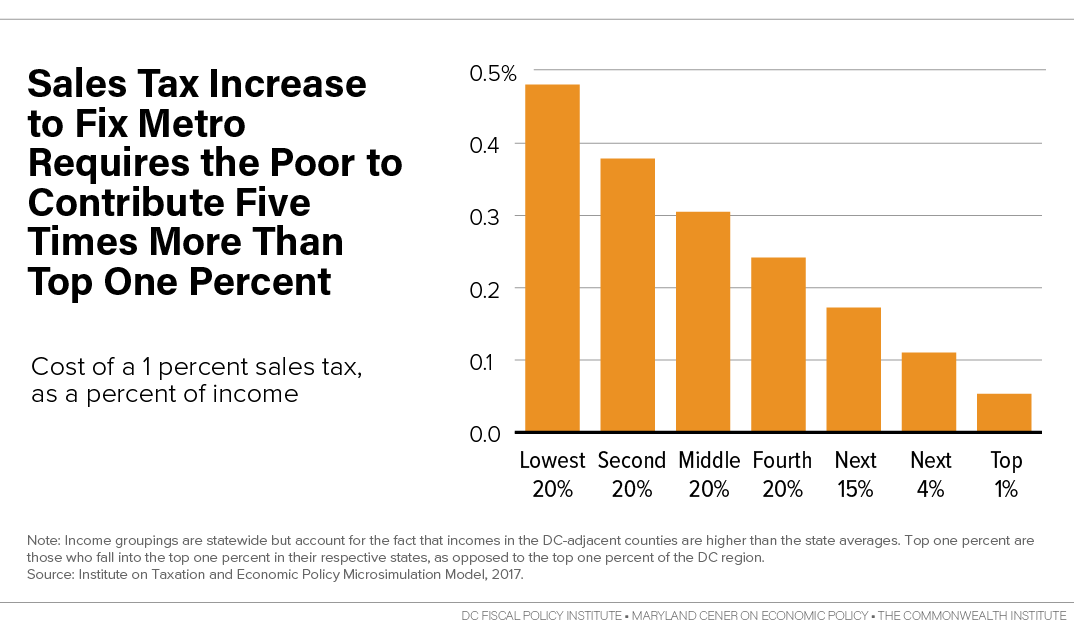 The new analysis, Triple Whammy: A Regional Sales Tax for Metro, Like Fare Increases and Service Cuts, Would Fall hardest on Struggling Families, shows that a 1 percent general sales tax increase would take up 0.5 percent of income from families with incomes below $25,000, such as a retail cashier or a senior citizen living on Social Security. These figures are based on an analysis conducted for this report by the Institute on Taxation and Economic Policy. The sales tax would take up less than 0.1% of income for the richest 1 percent, those with incomes above $600,000. That means the impact of the sales tax would be five times greater on the poorest than on the richest.  
"Our leaders should not put the greatest burden for fixing Metro's problems on those who are least well off in our region," said Ed Lazere, Executive Director of the DC Fiscal Policy Institute. 
In addition, a majority of very low-income renters in the Washington metro area devote more than half of their income to housing, the analysis shows, meaning that their budgets have no wiggle room for added expenses. This means even a modest sales tax could create added hardship. Families living off the lowest wages also are the ones who have gained the least from the area's economic recovery. Area workers in the bottom 40 percent of earnings have seen wages fall or stagnate over the past decade, adjusting for inflation. Meanwhile, workers in the top third of the wage distribution have enjoyed wage gains. 
"Hundreds of thousands of hard-working families already struggle to make ends meet in our increasingly expensive region," said Benjamin Orr, Executive Director the Maryland Center for Economic Policy. "A new sales tax would make it even harder for thousands of families to pay their rent, buy healthy food, or get their children's school supplies."  
The three groups recommend that area jurisdictions make specific dollar commitments to Metro and preserve local flexibility in how to pay for it, a recommendation some other groups have supported. This would increase the likelihood that each jurisdiction could come up with a revenue source that makes sense and is fair.  
"Too many hardworking families in Northern Virginia already face rising housing costs and flat wages," says Chris Wodicka, policy analyst for The Commonwealth Institute, a fiscal and economic research organization in Richmond, VA. "Virginia needs the flexibility to chart its own path on meeting its financial commitment to a strong Metro in a manner that asks everyone to pay their fair share." 
While the groups did not recommend specific alternatives, they noted that the sales tax largely leaves area businesses off the hook, even though they have much to gain from a healthy Metro. The groups recommend that each jurisdiction look to revenue sources that ask businesses and high-income residents to provide the funding needed to re-build Metro. 
"It only makes sense that businesses and high-income residents, who benefit the most from a strong economy and have the greatest ability to pay, play a large part in funding Metro's repairs," said Orr.  
The groups noted that an equitable approach to solving Metro's crisis would be to rely largely on revenue increases, rather than on other changes that are likely to have a large impact on families with low-incomes and communities of color. That means minimizing fare increases, service reductions, or scaling back pay of middle-class workers at Metro.  
Finally, the three groups pushed back against General Manager Paul Wiedefeld's support for a 3 percent cap on the growth of Metro's operating budget. That amount is likely to be unrealistic in at least some years, which would lead to reductions in maintenance, or cuts in services, and therefore over time re-create the problems that Metro is trying to solve.  
About The Commonwealth Institute  
The Commonwealth Institute for Fiscal Analysis provides credible, independent, and accessible information and analyses of fiscal and economic issues with particular attention to the impacts on low- and moderate-income persons. Our products inform fiscal and budget policy debates and contribute to sound decisions that improve the well-being of individuals, communities and Virginia as a whole. www.thecommonwealthinstitute.org 
About the DC Fiscal Policy Institute 
The DC Fiscal Policy Institute promotes opportunity and widespread prosperity for all residents of the District of Columbia through thoughtful policy solutions. DCFPI influences DC budget and policy decisions to reduce poverty and income inequality and to give residents the opportunity for a secure economic future. We accomplish this through research and analysis, direct engagement with policymakers, and strategic partnerships with other organizations and individuals. Essential to accomplishing our mission, DCFPI also furthers ways to make DC public services more effective and to ensure the workings of DC government are open and accountable to the public. www.dcfpi.org  
About Maryland Center on Economic Policy 
The Maryland Center on Economic Policy advances innovative policy ideas to foster broad prosperity and help our state be the standard-bearer for responsible public policy. We engage in research, analysis, strategic communications, public education, and grassroots alliances promoting robust debate and greater public awareness of the policy choices Maryland residents face together. www.mdeconomy.org  
# # #