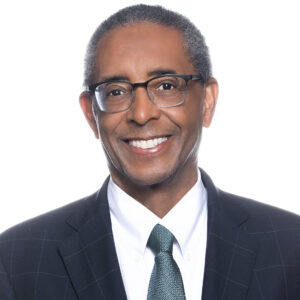 WASHINGTON – DC Fiscal Policy Institute (DCFPI) is pleased to announce the election of Dr. Jerome S. Paige as Chair of our Board of Directors. Dr. Paige is a founding board member of the organization and has previously served as Board Treasurer.
For almost 40 years, Dr. Paige has been providing economic consulting to businesses, law firms, government agencies, and nonprofit organizations across the DC metro area. He holds a bachelor's degree in economics from Howard University and a master's and Ph.D. in economics from American University.
"Jerome has a deep understanding of the issues facing the District and is committed to using his voice to create change. Combined with the deep institutional knowledge of DCFPI, he's incredibly well-positioned to shape and inform the pursuit of our new strategic vision and mission," said DCFPI Executive Director Erica Williams.
"Since its founding, DCFPI has been a trusted source of data on poverty and inequality in the District and policies to reduce them," said Paige. "I'm honored to pick up where outgoing chair Judith Sandalow leaves off in her dedicated work to secure strong new leadership for the organization. I'm excited to guide DCFPI as it leverages its strengths for a renewed purpose of shared abundance and collective liberation in our city."
"Jerome has been an integral part of DCFPI from the beginning, and I can't think of anyone more qualified to lead the board into its next chapter," said outgoing board chair Judith Sandalow. "He has a deep understanding of the issues that matter to our communities and a passion for ensuring that all Washingtonians have access to opportunity."
Paige's appointment comes at a time when DCFPI is expanding its reach and impact. In 2022, the organization announced a new mission and vision that explicitly recognize the structural racism at the root of economic inequality and place racial equity and justice at the center of our work.