The District ended 2011 with an average yearly unemployment rate of 10.3 percent, slightly higher than the rate for 2010 and far higher than that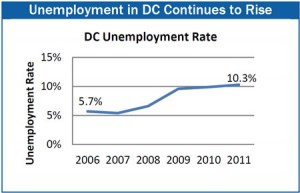 for 2007 before the start of the recession. This is a sign that economic weakness continues to affect DC residents. 
Who are the District's unemployed residents?  DCFPI's latest look at data from the Census Bureau's Current Population Survey shows that the increase in unemployment in DC has been widespread, but high school graduates and Black residents have experienced the highest increases in unemployment. 
Highlights of our findings include: 
Residents with a high school diploma faced a substantial increase in unemployment. The unemployment rate for DC residents with a high school degree rose from 9.7 percent in 2007 to 25.3 percent in the fourth quarter of 2011. In 2011, unemployment for DC high school graduates surpassed that of residents without a high school diploma, 24 percent versus 22 percent. 
Unemployment among Black residents has risen notably. The unemployment rate for Black DC residents has been rising since 2007, and increased again last year, from 18.4 percent in 2010 to 19.4 percent in 2011.  The 2011 unemployment rate for Black residents was more than double that of 2007, when the rate was 9.4 percent.
Young workers still have a high unemployment rate. The unemployment rate for 16-24 year old DC workers stood at 17.4 percent for 2011, the highest among all age groups. However, this is a marked improvement from 2010, when the unemployment rate among this group was 19.6 percent. Young workers comprised the only DC age group to experience a drop in unemployment from 2010 to 2011. 
Low-wage workers saw a slight decrease in unemployment rates this year. The rate for low-wage workers decreased from 19 percent in 2010 to 18.1 percent in 2011. However, low-wage workers still hold the highest unemployment rate by wage. 
High unemployment in the District has affected vulnerable populations who are having special trouble enduring these difficult economic times. The economic recovery is far from complete, so it is important to consider policies to support these populations with high unemployment rates. 
To view the full report, click here.