It seems hard to remember back to a time when the District was not dealing with huge million dollar budget shortfalls.  The recession that emerged with force in 2008 has continued to hammer state budgets throughout the nation, and the District hasn't escaped unscathed.
DC's latest revenue forecast reminded us that our money problems are still getting worse.  It revealed a new $18 million drop in revenues for the current fiscal year, and a $50 million drop in revenues for FY 2011.  As we wrote about earlier, the decline in revenues and agency spending pressures have resulted in a $230 million budget gap this fiscal year, and a roughly $600 million gap for FY 2011.
Just how far have our revenues fallen since the start of the recession?  Figure 1 shows that in June 2008, District revenues were predicted to increase through FY 2011 and beyond.  But then the recession hit, and DC's tax collections dropped a whopping $500 million between 2008 and 2009.  And instead of growing steadily as expected before the recession, tax collections stalled and have yet to go back up to pre-recession levels.   Revenues for FY 2011 will be lower than in FY 2007, meaning that the District has lost out on nearly four years of economic growth. Ouch.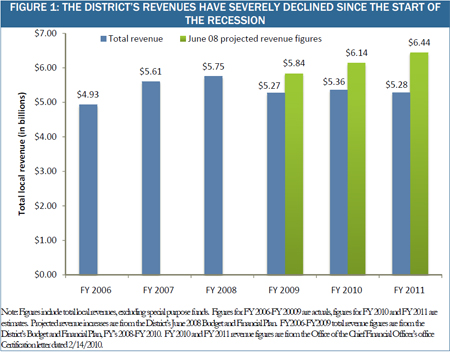 (Figure 1 does not take into account the revenue raising measures the Mayor and Council have taken in the last few years.  But even when those increases are factored in, revenues in FY 2010 and FY 2011 still don't eclipse FY 2008 revenue collections.)
So what do we do?  There has been a lot of talk from the Mayor and Council about needing to examine our expenditures closely for savings.  But as we'll talk about later this week, some of these cuts may actually turn out to cost us more than they save.  Any many of these cuts are hurting our most vulnerable residents.
DC's leaders haven't given the same level of scrutiny on the revenue side.  Now would be a good time to take a serious look at the hundreds of millions of dollars in taxes lost each year by the District from credits, deductions and exemptions from taxes.  Many of these have been on the books for decades, with no one checking to see if they are still effective or needed.  As we've mentioned before, raising revenue should be part of the equation for a balanced approach to closing the budget shortfall.
DC has been pretty heavily focused on cutting the budget.  But the data show that our budget woes are really from a revenue problem.