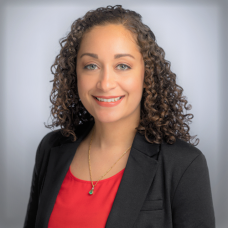 We're excited to introduce you to Tazra Mitchell, DCFPI's new Policy Director! She will manage and advance the organization's policy research and advocacy agenda.   
Before joining DCFPI, Tazra worked as a Senior Policy Analyst at the Center on Budget and Policy Priorities (CBPP), where she managed the "Poverty to Opportunity" project and conducted analyses of promising employment policies aimed at helping people struggling to make ends meet. Prior to CBPP, she was a Policy Analyst with the North Carolina Budget & Tax Center, where she conducted analyses of fiscal and economic policies and helped spearhead various fiscal and anti-poverty policy campaigns. She also analyzed legislative proposals to determine the fiscal impact on state government resources and worked directly with legislators to develop the state budget as a Research Assistant in the non-partisan Fiscal Research Division of the North Carolina General Assembly.  
Tazra received her Master of Public Policy from the Sanford School of Public Policy at Duke University and Bachelor of Arts in Political Science from North Carolina State University. 
Tazra is passionate about the anti-racism and economic justice movements, and she is excited to research and advocate for fiscal and economic policies that build a more inclusive economy in the District. She spends her free time with her elderly pit bull and friends, traveling, and hunting for the best Eastern-style BBQ that DC has to offer.   
Please join us in welcoming Tazra!