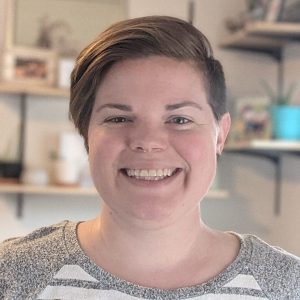 DCFPI is excited to welcome Amber Gruner, our new Revenue Organizer, to the team!
Amber joined the team at DCFPI in February 2021 and leads our our efforts to bring together partners, advocates, and the community around the #JustRecoveryDC campaign.  
She comes to DCFPI after six years of tenant organizing in DC with Housing Counseling Services, where she organized over 40 tenants' associations to exercise their rights, including the Tenant Opportunity to Purchase (TOPA). She also supported the launch and ongoing work of the DC Tenant Union to build power among tenants across the city, and was active in several housing campaigns, initiatives and coalitions. She joins DCFPI as their first–ever organizer and will be working on a campaign to raise revenue in DC to ensure a more economically and racially just distribution of resources.  
Amber graduated with BA in Sociology from Grinnell College. For the past seven years she has been a volunteer with HIPS, leading teams of volunteers to distribute harm reduction supplies to DC residents, and recently joined DC's mutual aid efforts. Amber enjoys listening to K-pop, cooking, and doing a not-too-difficult crossword.