Last week, DCFPI joined the Fair Budget Coalition and other partners in a sign on letter calling on DC Council to put revenue on the table to balance the DC budget and protect vital programs that are helping residents make ends meet and stay safe during the pandemic. Revenue would help ensure that DC can build a just recovery and come out of the crisis stronger than before. The recent surge in police violence against Black communities reminds us that this form of oppression is a manifestation of a larger degradation—structured economic injustice and state-sanctioned racism. It reminds us that fair budget and tax policy is also Black liberation work, as FBC has pointed out.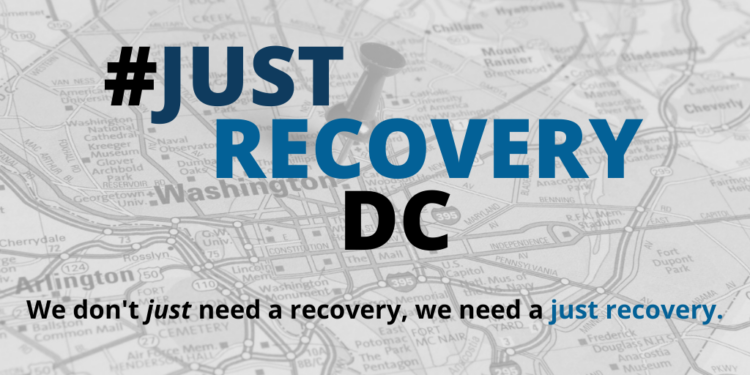 Because the pandemic caused DC's revenues to plummet by $1.5 billion through the end of the 2021 fiscal year (FY), revenue is even more crucial to advancing a just economic recovery. Using a mix of budget-balancing tactics, Mayor Bowser's proposed FY 2021 budget proposal avoided across-the-board cuts that would have further crushed our city's economy. Yet, the proposal includes too many shortcomings that we cannot tolerate, such as freezing Cost-of-Living Adjustments (COLAs) for city workers. She could and should have done more to commit to a just recovery.
The current crisis is wreaking the most havoc on Black and brown low-income residents. In a city with striking income and racial disparities, we can't tolerate flat funding or cuts that deepen inequities. A balanced approach that includes new revenue would minimize harm while reducing long-standing, unacceptable disparities in the District. The budget is now in the hands of the DC Council. They must put every option on the table, including raising revenues, so communities being hit the hardest by the pandemic—and those who were suffering even before—are not further hurt by underfunding critical programs. Some of the ideas in the letter include:
Making the wealthy pay their fair share.
Reversing components of the revenue triggers that went into effect over the last few years.
Closing costly, unfair, and ineffective tax loopholes for corporations and businesses.
Using more of our rainy day funds to address immediate needs.
The city should champion its progressive values to undo the harm of COVID-19 and also the harms of systemic racism and injustice. Please join us to urge the DC Council to put the District on the path to a just recovery that helps families rebuild, builds a more inclusive economy, and make us all stronger on the other side this pandemic. Add your name to the letter here.