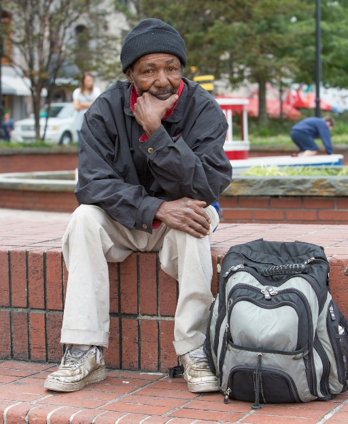 Housing is healthcare. Every day individuals experiencing homelessness die from preventable and manageable diseases. Now, the connection between housing and healthcare is even more evident when one of the keys to staying healthy is staying at home. The District has taken a number of steps to reduce the spread of coronavirus (COVID-19) among the homeless community; practicing physical distancing in shelters and using hotel rooms as shelter for people who have tested positive or have been exposed to the virus or are at high risk for COVID-19, among other efforts. As we look to the fiscal year (FY) 2021 budget, DC lawmakers should focus on increasing funding so more people can shelter in their own homes.
Homelessness already cuts lives short. People who don't know where they're going to spend the night struggle to receive needed services like medical treatment and counseling. They are often forced to stay in places that are unsafe or make their illnesses worse. As a result, the life expectancy of people facing chronic homelessness is far shorter than for those who are stably housed. Research has found that they are likely to have age-related illnesses that are typical of housed individuals who are ten to twenty years older.
Individuals who are homeless are particularly likely to acquire COVID-19 because of their age, vulnerability, exposure to many people while living in dormitory-style shelter, and/or inability to keep clean while living outside. And because of their health conditions, they are twice as likely to need to be hospitalized and two to three times likely to die from COVID.
Given these serious concerns, the District is taking a number of steps to reduce the spread of COVID-19 among our neighbors who are homeless by:
Increasing the space between beds in shelters;
Providing three meals daily so residents do not have to venture out;
Serving meals in to-go containers so folks are not forced to eat together in large cafeterias; and
Encouraging residents to stay in the same bed every night to reduce the number of people with whom they interact.
Residents who have tested positive, have symptoms, or have been exposed are tested and/or placed into a hotel rooms used as isolation and quarantine sites. While this serves anyone who cannot quarantine in a private space, the majority of people that the city is serving are homeless. Finally, the Department of Human Services is working with Unity Health Care to proactively identify individuals who are homeless and at high risk of becoming severely ill or dying, such as those who are older or who have serious illnesses like heart disease and asthma. These individuals are offered a placement in a hotel.
The District has also tried to reduce the spread among people who sleep outside by following Centers for Disease Control and Prevention (CDC) guidance on effective prevention measures. For example, the District is not clearing people from encampments because this can spread the disease to other encampments. Additionally, the District has installed hand washing stations and portable toilets and has ordered more. These stations are needed now more than ever because so many restaurants and businesses with bathrooms are currently closed.
Hopefully, the District's efforts to reduce the spread of COVID-19 will be successful. But with the CDC Director predicting a second wave of COVID in the fall, the District should move as many individuals into housing as possible. This will require additional funding in the FY 2021 budget for Permanent Supportive Housing which provides housing and intensive wrap-around services to medically vulnerable individuals. We must continue our housing investments if we are going to prevent the spread of COVID.