As protests in the District and nationwide call attention to police brutality and systemic racial inequities, advocates are calling on lawmakers to strengthen investments in budget areas that support community stability, rather than policing. Affordable housing is one such area that, if supported with robust, recurring funding, can provide long-term safety and stability, particularly for low-income communities and Black and brown communities facing skyrocketing housing prices in the District. DCFPI, along with our partners, urges the DC Council to make strong investments in public housing, affordable housing production, and preservation in the fiscal year (FY) 2021 budget.
As the District grapples with a dip in revenue as a result of closures related to COVID-19, we must adopt a stronger revenue strategy that works to deconstruct entrenched structural inequities. This means, among other tactics, asking our wealthiest residents and corporations to pay their fair share in income taxes. Eighty-three percent of DC voters polled support raising taxes on wealthy residents to prevent cuts to essential services, with nearly four out of five residents opposing budget cuts that would hurt Black and brown residents. This poll, released by DCFPI and DC Action for Children, demonstrates that the DC Council has the support of the people to meet new budget challenges in affordable housing and other essential community services.
Without $60 Million to Support Critical Public Housing Repairs, We Will Lose More Affordable Housing
The COVID-19 virus is particularly deadly to those with already compromised immune or respiratory systems. It is unconscionable to allow public housing residents to live in poor conditions that can increase their likelihood of death as a result of this devastating virus. Nearly all residents living in the District's public housing are Black, making this an issue of racial justice. DC Council must do everything possible to ensure that public housing residents are safe. The Mayor's budget designated $76 million to Public Housing and Structural Transformation, or the "PHAST" program, to be administered over two years. Of that, only $25 million in FY 2021 and $15 million in FY 2022 would go toward rehabilitation and maintenance to address poor housing conditions—far short of what's needed.
The DC Housing Authority (DCHA) Director testified that the Mayor's proposed budget would only allow DCHA to preserve existing properties—not do any major rehabilitation (modernization) or redevelopment. This means that to begin fixing poor housing conditions, the agency would have to look for additional funding for the 15 properties identified has having the most urgent need for major repair. If there is no funding available to make a property safe and habitable, DCHA will have to submit an application for demolition. We urge the Council to direct $60 million in recurring funding each year to those immediate, critical repairs to prevent the further loss of public housing.
Insights from the DCHA Government Witnesses Hearing
The law mandates that any unspent Local Rent Supplement Program funds must be redirected to help pay for urgent public housing repairs. Due to the budget shortfall, the proposed budget did not re-allocate $9.8 million in unspent Local Rent Supplement Program funds in the FY 2020 Supplemental Budget. 
Maintain and Grow Strong Investments in Affordable Housing Production
The sharp spike in pandemic-related job losses has likely put thousands at risk of eviction in our city, making robust community investments in long-term affordable housing stock a more urgent priority for our city. The Housing Production Trust Fund (HPTF) is the District's primary tool to finance the production of affordable housing for low- and moderate-income residents. And it should be paired with project based-LRSP assistance to meet the needs of extremely low-income families (those with income up to $36,400 for a family of four).
Last year, the District increased the HPTF from $100 million to $116 million. The Mayor's proposed budget cuts that FY 2020 increase to $100 million and maintains $100 million for FY 2021. We ask the Council to preserve the original FY 2020 increase and devote at least $116 million in FY 2021. Mayor Bowser has acknowledged that demand for affordable housing is so high that $250 million would be an appropriate investment. At minimum, a $200 million investment would help put DC on a path to meeting the most serious affordable housing challenges over the next decade.
DHCD has consistently failed to meet its mandated targeting requirement that 40 percent of HPTF serve DC's extremely low-income families. New changes adopted in the FY 2020 budget now require 50 percent of HPTF resources go toward housing for those families. DHCD is nowhere close to hitting either the new or old target (see Figure 1). The Mayor's administration hopes that new changes that move project-based LRSP assistance to future years in the financial plan will help them increase accountability and efficiency from DHCD. The financial plan includes an increase of $5.4 million in project-based LRSP in FY 2022 and FY 2023.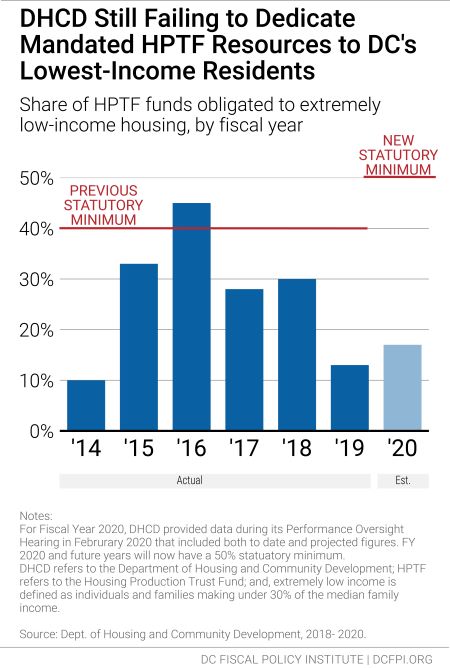 Insights from the DCHD Government Witnesses Hearing
The demand for HPTF assistance is three times the amount of funding available. The proposed HPTF budget of $100 million in FY 2020 and FY 2021 means that DHCD will be unable to fund any new affordable housing projects, as that funding is already committed to existing projects. Without any additional local funding, DHCD would be forced to look elsewhere to increase new affordable housing production.
Invest in the Preservation Fund to Protect Housing Affordability and Stability in Low-income Neighborhoods
Given the severity of the affordable housing crisis, and the urgent need to preserve our naturally occurring housing stock, we urge the Council to invest at least $10 million in the Preservation Fund. The Mayor's proposal of a one-time $1 million enhancement for FY 2021 would not be sufficient to put the District in a strong position to preserve housing affordability and prevent displacement of low-income residents.
The Preservation Fund has proven to be a powerful and cost-efficient tool. Using public dollars to leverage private dollars in a 3:1 match, the Fund offers acquisition and predevelopment financing for projects that preserve existing affordable housing in the District. Investing in the Preservation Fund makes financial sense: preservation costs just half to two-thirds of new construction costs, and the financing from this fund recycles—that is, as projects repay, the dollars can go toward preserving more affordable homes.
In the wake of the pandemic, the District should be prepared with powerful preservation tools to stave off a wave of gentrification. Our housing stock is aging, and we are beginning to see that owners of small properties are seeking to sell because they can no longer to afford to renovate and maintain their buildings. While the scope of long-term harm of this recession is still unclear, we can anticipate that this trend will accelerate. Robust support for the Preservation Fund ensures that developers who are committed to affordability can quickly acquire properties that may otherwise end up in the hands of developers who are more invested in property values than in the tenancy of low-income, long-time Washingtonians.
Insights from DHCD Government Witness Hearing:
According to DHCH Director Donaldson, there is currently $65 million available in the Preservation Fund. The Director expects $62 million of that to go to existing projects in the pipeline, each in various stages. This leaves a balance in the Fund of only $3 million. With the Mayor's proposed $1 million enhancement, which would leverage $3 million in private funds, and $8.5 million in repaid loans, the total balance for new preservation in FY 2021 would be $15.5 million. This is a far cry from the $51.5 million that would be available to meet need and stave off gentrification if the Council matches the FY 2020 investment of $10 million in the Preservation Fund. An investment in affordable housing preservation is an investment in the stability of the District's neighborhoods.