High and rapidly rising housing costs are squeezing family budgets in the District. The disappearance of affordable housing in DC has left most extremely low-income residents paying more than half their income on rent and utilities each month, leaving many at risk of eviction and homelessness, and leaving almost nothing left for the most basic needs, like diapers or cold medicine.
Creating more affordable housing is the key to ensuring that high rents don't absorb the bulk of family income and force difficult tradeoffs—such as choosing between keeping a roof over a child's head or putting food on the table. Reducing rents for DC's lowest-income families to 30 percent of their income—the standard of affordability—would increase their available income by almost $10,000 per year on average, a new DC Fiscal Policy Institute report shows.
This would help 39,500 households with earnings below 30 percent of the area median income, or $36,400 for a family of four. That is enough people to fill the Capital One Arena more than three times over. These are residents in low-wage jobs or living on cash assistance or Social Security who have little, if any, wiggle room in their monthly budget. Wards 7 and 8, where approximately 90 percent of residents are Black, have the highest percentages of cost-burdened renters at 55 percent and 63 percent, respectively, compared to only 44 percent, on average, in the remaining six wards.
With an extra $10,000, or $820 per month, DC families would be able to buy more nutritious and adequate food, and afford Metro fare and utility bills, among other expenses (Figure 1). It would greatly reduce the financial stress families face when nearly all of their limited income goes to rent. It would create more financially stable households that are better able to benefit from and participate in DC's growing economy.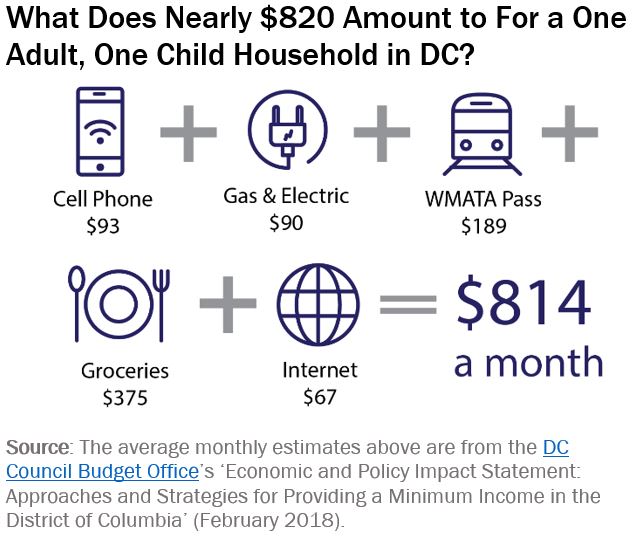 The District invests in a number of affordable housing tools, but these investments are not meeting the need, our report argues. At minimum, the District should expand affordability by:
Investing adequately in all of the District's housing tools, with the goal of serving all extremely low-income households.
Ensuring no deeply affordable housing units are lost during the DC Housing Authority's "repositioning" plan.
Investing to create affordable housing units for larger families.
Updating zoning to accommodate denser development near high-opportunity, transit areas.
Expanding and strengthening rent control.
Just this past year, the District affirmed that displacement and affordable housing are top priorities in the city's land use decisions and set a goal to add 12,000 new affordable homes throughout the District. But there's much more to do. As rents continue to rise, as homelessness remains a crisis, and as our racial wealth gap grows, we need city leaders to invest our growth so that all residents, particularly residents of color facing displacement, can stay and thrive.