15th Anniversary Event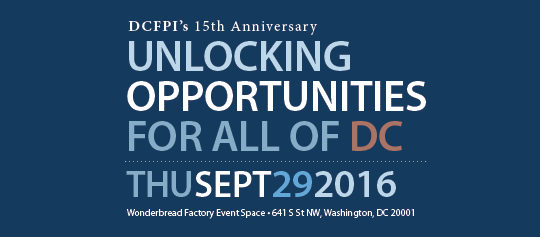 Please join us at the DC Fiscal Policy Institute's "Unlocking Opportunities for All of DC" Reception. An evening of cocktails and refreshments to celebrate our milestone of 15 years of Independent Research, Poverty Solutions and Better DC Government. The DC Fiscal Policy Institute works every day to bring the District closer to being the city we all know it can be – a place that provides opportunity for all residents to flourish.
Keynote Speaker
Mayor Muriel Bowser
Event Information
Tickets may also be purchased here.
Sponsorship information can be found  here.
If you have questions about the Unlocking Opportunities for All of DC Reception, please contact Candice Duggan at cduggan@dcfpi.org or 202-325-8714.
Host Committee
Medea Benjamin
Peter Edelman
Kristin Foti
Katia Garrett and Don Salzman
Maria Gomez and Miachel Rexrode
Jim Gray
Kathryn Greenberg and Ari Zentner
Lynne and Joe Horning
Eugene M. Lang Foundation
Iris and Michael Lav
Jerome S. Paige
Alice M. Rivlin
Judith Sandalow
Page and Howard Smith
Matthew S. Watson
Former Mayor Anthony Williams
Missy and Mike Young