Chairman Bonds and other members of the Committee, thank you for the opportunity to testify today. My name is Ed Lazere, and I am the executive director of the DC Fiscal Policy Institute.  DCFPI works to develop policy and budget solutions to reduce income inequality and promote economic opportunity for all residents of the District of Columbia.
I am here to testify in favor of key elements of the proposed budget for the Department of Housing and Community Development, which plays a major role in Mayor Bowser's substantial commitment to affordable housing in Fiscal Year 2016. I would like to make four points.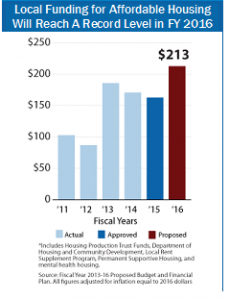 First, DCFPI applauds the fact that local funding for affordable housing will reach the highest level in the city's history in FY 2016 — $213 million — according to the DC Fiscal Policy Institute's review. This figure combines funding for DHCD, the Housing Production Trust Fund, the Local Rent Supplement Program, Permanent Supportive Housing provided through the Department of Human Services, and the small housing program operated by the Department of Behavioral Health.
The notable expansion of affordable housing is led by a $100 million commitment to the Housing Production Trust Fund — DC's main tool to build or renovate affordable housing. This is one of the highest funding levels in the trust fund's history, and twice the amount that would come from its standard funding formula. This will support construction or renovation of 1,000 or more homes affordable for low- and moderate-income residents, typically those with incomes under $54,000 for a year for a family of four. As DCFPI has noted in the past, consistent funding of the Trust Fund at this level is critical to creating a pipeline of affordable housing development.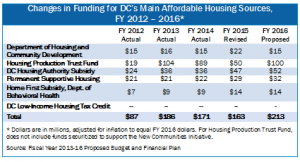 Second, the DC Fiscal Policy Institute supports Mayor Bowser and Secretary Donaldson's plan to create an affordable housing preservation "strike force." As DCFPI and other partners in the DC Preservation Network noted last year, the District's affordable housing efforts must include a focus on preserving existing affordable housing, especially subsidized projects at risk of being lost as affordability restrictions expire.[1] This should include enhanced efforts to help tenants purchase their buildings, as well as use of the District's Opportunity to Purchase Act (DOPA). The increased funding for the Housing Production Trust Fund will help make preservation efforts possible.
Third, the proposed FY 2016 budget highlights the critical role of rental subsidies in creating housing affordable to very low-income households facing the most serious housing challenges. The FY 2016 budget includes $2.4 million through the Local Rent Supplement Program to add rental subsidies to 200 or more units developed under the Housing Production Trust Fund. This is needed to meet the requirement that 40 percent of units developed with HPTF resources are affordable to families with incomes under 30 percent of Area Median Income, or roughly $32,000 for a family of four. Without adding a layer of rental subsidies, the construction-side support from the Trust Fund is not sufficient to make housing affordable to the lowest-income families.
This means that further expansion of rental subsidies will need to be part of efforts to meet affordable housing needs in the District, along with a robust Housing Production Trust Fund.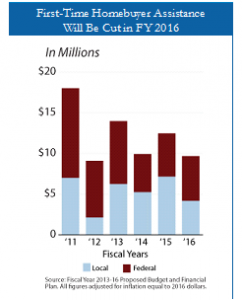 Finally, I want to point out that the proposed budget could do more to support first-time homebuyers. Total funding for Home Purchase Assistance in FY 2016 ' federal and local funds combined ' will be $9 million in FY 2016, down from $12 million in FY 2015. The number of residents who buy their first home with help from HPAP has fallen in recent years and will continue to be low in 2016. The Department of Housing and Community Development projects to serve 240 first-time homebuyers in FY 2016, compared with 508 in 2008.
The Department of Housing and Community Development states that funding for the Home Purchase Assistance Program will fully meet expect demand, and that the agency will find additional funding if needed to serve a greater demand.[2]
The relatively low demand for homebuyer assistance could reflect a number of factors, but one possibility is the relatively small amount of assistance available per household. The maximum HPAP loan set by the Department of Housing and Community Development is $54,000, compared with $70,000 in 2009. Given the District's high and rising home prices, an increase in the loan amount is needed to help ensure that a wide range of low- and moderate-income families can become homeowners. Without an increase, only families with incomes near the top of the eligibility range can take advantage of this program.  Yet the reduced funding for HPAP will make it impossible to increase the loan amount that a households can receive while also serving the same number of homebuyers as in previous years.
Thank you for the opportunity to testify, and I'm happy to answer any questions.
---
[2] Comments by DHCD Secretary Donaldson to the Coalition of Nonprofit Housing and Economic Development, April 15, 2015.