The DC Public Charter School Board (PCSB) annual report on charter school finances offers an important snapshot of the finances of each DC charter school. But it could do even more to help parents and policymakers understand how their schools spend money and how financially strong they are. For example, the Financial Audit Review (FAR) report should have a clearer listing of each school's financial performance "grade" for the year, and it should provide more detailed breakouts of each school's capital costs and sources of philanthropic funds.
Even with these concerns, the report offers a great deal of useful information on the financial health of charter schools that sheds light on how individual schools are spending their resources.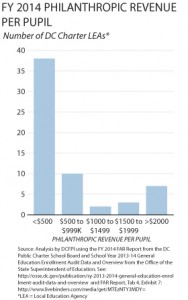 The FAR report for the 2013-2014 school year, the latest year for which data is available, finds wide variation in the financial health of DC's 60 charter schools (known as Local Education Agencies, or LEAs):
Seven LEAs were identified as financially low-performing. However, the FAR does not identify which schools fall into this category.
21 LEAs were categorized as financially high performing.
18 charter LEAs had operating deficits, an 80 percent increase from the previous two fiscal years.
The Public Charter School Board works with financially low-performing schools and can close schools that are financially unsound.
DCFPI's analysis of the FAR also reveals wide variation in spending per-pupil and in the philanthropic revenue raised by each charter school LEA.
Per-pupil spending varies from school to school: Charter LEAs spent an average of $14,639 per pupil for FY 2014. This spending ranged from $6,079 per pupil to $51,594 per pupil. In most cases, the variation reflects the characteristics of the students — charter schools serving adults receive less per-pupil funding than others, while schools with a substantial number of special education students or English language learners receive more per pupil.
Philanthropic revenue is a relatively small share of charter school finances: DC's charter school sector brought in an approximate $44 million in philanthropic revenue, including parent fundraising and foundation grants. However, DC charter schools still rely primarily on local resources – philanthropic revenue only accounted for 6 percent of the sector's collective revenue.
Philanthropic revenue varies from school to school: While most schools raised less than $500 per pupil from philanthropic sources, 12 charter school LEAs raised $1,000 or more per pupil. One school raised over $15,000 in additional resources per pupil.
While the FAR is an important and helpful document for the public, it could make it easier for the public to see which schools are doing well and which schools are considered financially at-risk. Most important, the FAR should provide a summative grade of each school's financial performance and identify which schools are financially high- or low-performing. It also should clarify the sources of philanthropic revenue, separating funds raised by parent activities from foundation and other fundraising. And it should do a better job of separating each school's operating expenses from its capital expenses.
To read the full DCFPI report, click here.
To print a copy of today's blog, click here.