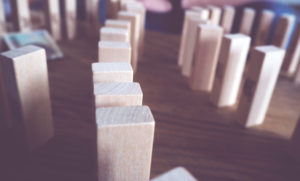 Federal budget cuts are coming, and DC should do all it can to prepare for the worst. That includes putting on hold $100 million in scheduled tax cuts that would make it hard to meet the city's most pressing needs and deplete our ability to respond to federal budget reductions. Pausing the tax cuts for fiscal year 2018 would allow the District to hold on to its money and strengthen programs likely to face the biggest cuts, like housing, the safety net and schools.
Last week, Mayor Bowser highlighted problems the president's "skinny budget" would cause for DC, with $100 million less next year for housing, schools, public safety, job training and more. Mayor Bowser said that "at a time when we are working to ensure that all of DC's residents benefit from our city's prosperity, we have significant concerns about…cuts to programs that support basic needs like housing and healthcare."
The looming federal cuts raise serious doubts about whether the District should go ahead with over $100 million in tax cuts this year, which would make it even harder to advance the mayor's goal of inclusive prosperity. The Mayor and Council are operating under a rule they adopted three years ago that puts tax cuts ahead of everything else as DC revenues grow. The policy dictates that whenever DC's revenue projections increase, all new revenue goes to implement a series of tax cuts through an automatic "trigger." The $100 million in tax cuts on the table this year include cuts in taxes for businesses and wealthy estates, in addition to tax cuts that assist a broad range of DC households and make the tax system more progressive.
Even without any federal funding losses, implementing these tax cuts would make it impossible for the Mayor and Council to adequately address the District's staggering loss of affordable housing, the highest homelessness rate among large U.S. cities, a Metro system badly in need of repairs, schools that face rising enrollment but under-funding, and additional resources needed to support high-quality child care for infants and toddlers, among other needs.
While the Congress has already signaled that it will modify the president's proposal, it is almost certain that some federal cuts will be coming later this year. Moving forward with tax cuts—and leaving schools, housing, homeless services and other needs under-funded—means that federal budget cuts will only set us further back.
On the other hand, delaying DC's tax cuts now would enable the Mayor and Council to expand and strengthen the programs that are likely to face federal cuts, helping avoid any loss of services to DC residents.
Especially at a time of federal uncertainty, delaying tax cuts is important to ensuring that the DC budget can address the city's most urgent needs and that all residents benefit from our growing economy.