Mayor Gray Should Take a Balanced Approach on Cuts
Last year, Mayor Gray used a mix of revenue increases and service cuts to close a $322 million budget gap, and in this way took a fairly balanced approach.  But when it came down to how the cuts were distributed, Mayor Gray's budget was anything but balanced.  Programs for low-income residents were cut more than any other part of the budget.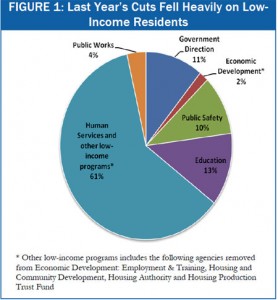 This year the Mayor needs to close a $164 million budget gap and will almost certainly need to make another round of cuts and revenue increases to present a balanced budget to the DC Council on March 23rd.  Cuts to programs that help families get back on their feet can undermine other major initiatives that the District invests in, such as education.  With unemployment still rising for many groups of DC residents, and one-third of children living in poverty, Mayor Gray should spread the pain of budget cuts more evenly among agencies this year.  
Last year, Mayor Gray cut heavily into programs for low-income residents.  The DC Council restored some of the cuts — most notably a $17 million for homeless services — but at the end of the day three out of every five dollars of cuts came from programs that help low-income residents such as funding to build affordable housing and cash assistance for low-income families with children and people with disabilities (see Figure 1).  This is despite the fact that these programs make up just over one-quarter of DC's total local budget. Since the start of the recession funding for human services and other low-income programs has been cut more than any part of the budget other than economic development (see Figure 2). 
Those cuts were made despite tremendous increases in poverty, unemployment and homelessness due to the recession.  The cuts end up costing DC more in the long run as these families turn to more costly emergency services once they have reached a crisis point.  Take, for example, the significant amount of money the District is currently spending on sheltering homeless families in motels because of a lack of shelter space and affordable housing options to help families move towards permanency.  
There are no easy choices when it comes to cutting public services.  But this year, Mayor Gray should work to take a more b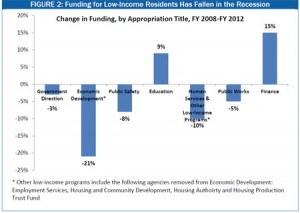 alanced approach when making cuts to the budget.  Because loading them on the most vulnerable residents is not only bad for low-income families, but bad for the city as a whole.  
Tune in tomorrow when the District's Dime will discuss how Mayor Gray can limit how deep he cuts public services by raising revenue.